Easy Waldorf Salad Cups Recipe
Waldorf Salad Cups are made with sweet fruits, crunchy celery, and a creamy yogurt-mayo dressing. This grown-up interpretation of fruit salad takes just 15 minutes to throw together and is sure to impress even the pickiest of eaters.
It can also be adorably packaged in individual serving sizes, making it perfect for picnics and parties!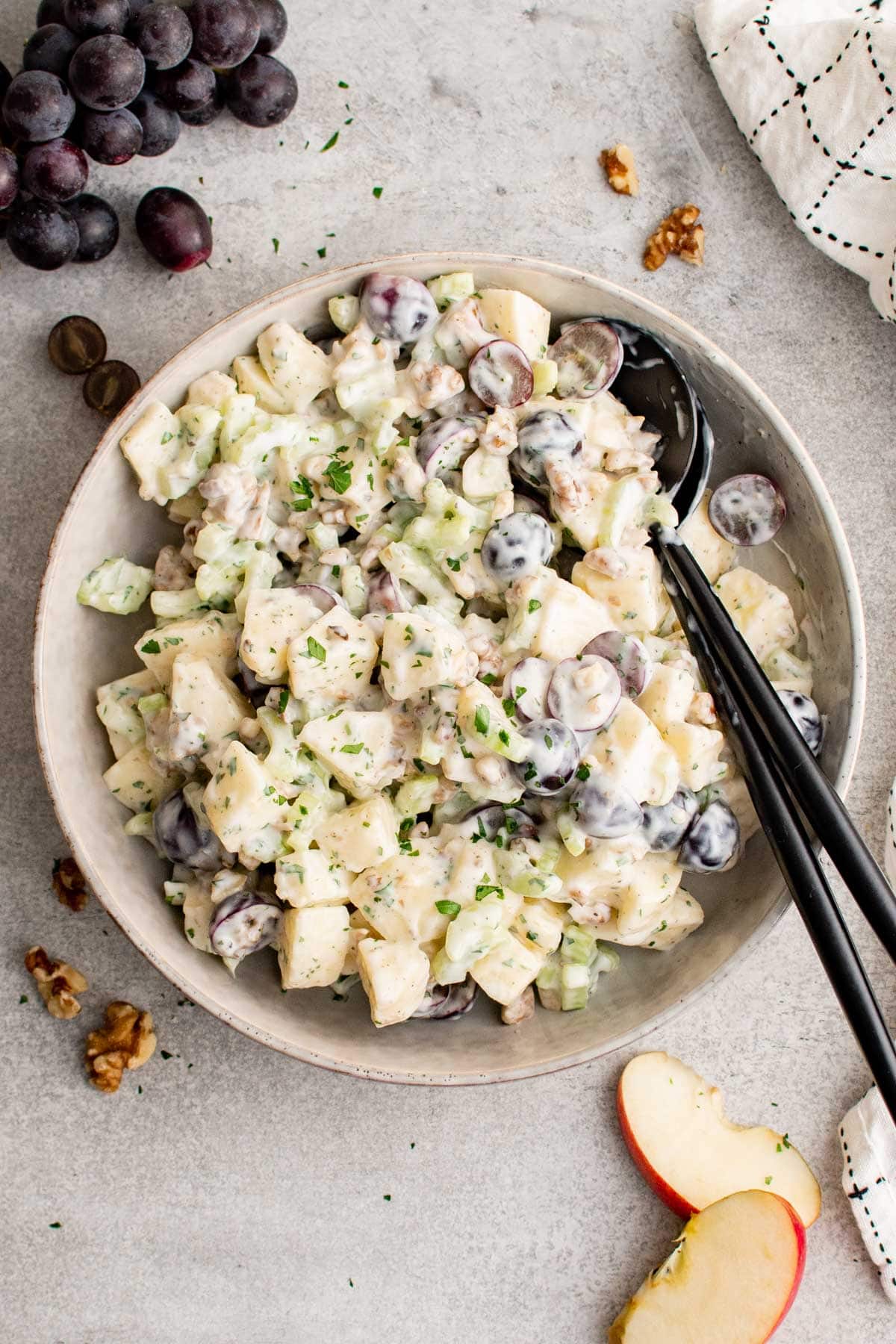 After the cold, dark winter, I get super excited for all of the colorful produce of spring and summer. This apple walnut Waldorf salad is a delightful option for Easter or Mother's Day brunch, and pairs well with other light and bright plates like my Stuffed Cherry Tomatoes, Fruit Kabobs, and Caprese Skewers.
Table of Contents
Why You'll Love This Recipe
As Leonardo da Vinci famously said, "Simplicity is the ultimate sophistication." Nothing could be more true of this creamy apple walnut salad recipe! These individual Waldorf salad cups are:
Wholesome and nutritious. Made with healthy ingredients like sweet grapes, crisp apples, crunchy celery, heart-healthy walnuts, and a protein-packed yogurt dressing.
Made in just 15 minutes. Aside from some light knifework and a quick whisk of the dressing, this easy fruit salad recipe requires almost zero kitchen know-how. You'll be done in a matter of minutes!
Meal prep friendly. Unlike lettuce-based salads, this Waldorf salad doesn't have anything that will wilt. Get a jump on your party by making this recipe ahead of time!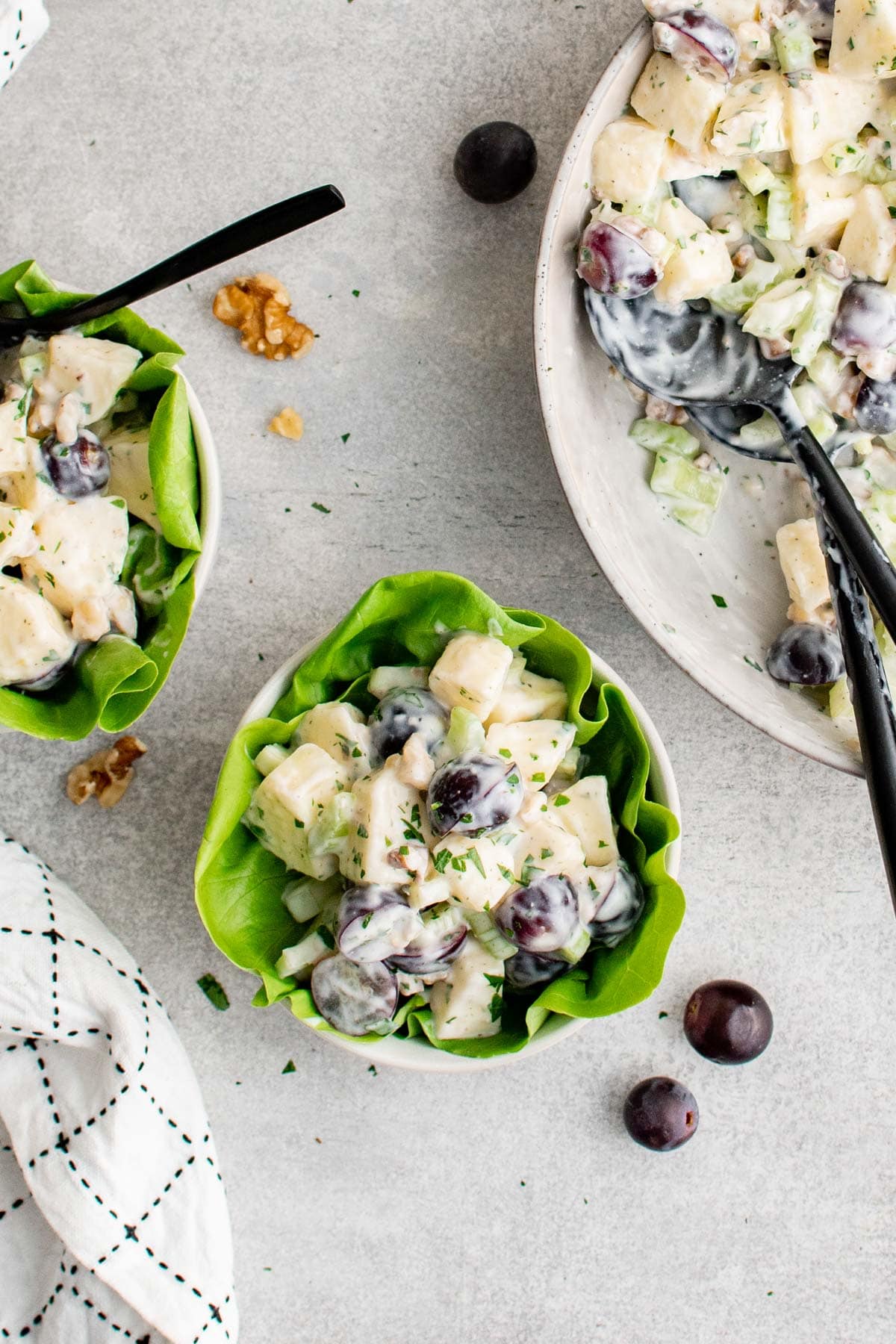 Ingredients & Substitutions
My simple apple walnut Waldorf salad recipe doesn't take much to assemble. Here's what you'll need:
Grapes – Any seedless variety will work, so choose whatever suits you best!
Apples – Choose a sweet, crisp variety like Pink Lady or Gala. Avoid any mealy apples like Red Delicious.
Celery – I love the earthy crunch of celery, but it sometimes gets a bad rap for being stringy. If you feel this way, not to worry — all you have to do is give the stalks a quick peel using a veggie peeler. The stringiness is all on the outside layer!
Walnuts – Despite not being in the original Waldorf salad from the 1800s, walnuts have been a mainstay of the recipe since the 1920s. Feel free to experiment with other toasted nuts (like pecans), or opt for toasted sunflower seeds if you are allergic to nuts.
Boston Lettuce – You don't need lettuce to make this salad, but I find the presentation to be absolutely adorable when I use individual leaves as my serving vessels. Any sort of buttery leaf lettuce will do, so if you can't find Boston Lettuce, try Little Gems, Butterhead, or Bibb lettuce instead.
Vanilla Greek Yogurt – Vanilla greek yogurt is already sweetened, keeping your ingredient list nice and short! If you don't have any on hand, feel free to swap in plain greek yogurt or sour cream and sweeten to taste with sugar, honey, maple syrup, agave nectar, or the sweetener of your choice.
Mayonnaise – As far as I'm concerned, Hellman's/Best Foods is the gold standard, but any mayo brand that you know and love will work just fine.
Lemon Juice – Fresh is always best, especially when it comes to citrus juice. To get the most juice out of your fruit, give it a firm roll on the countertop for 10-15 seconds before cutting in half to juice.
Parsley – Simultaneously herbaceous and lemony, parsley is a natural addition to this simple Waldorf dressing. Either flat-leafed or curly varieties will work here.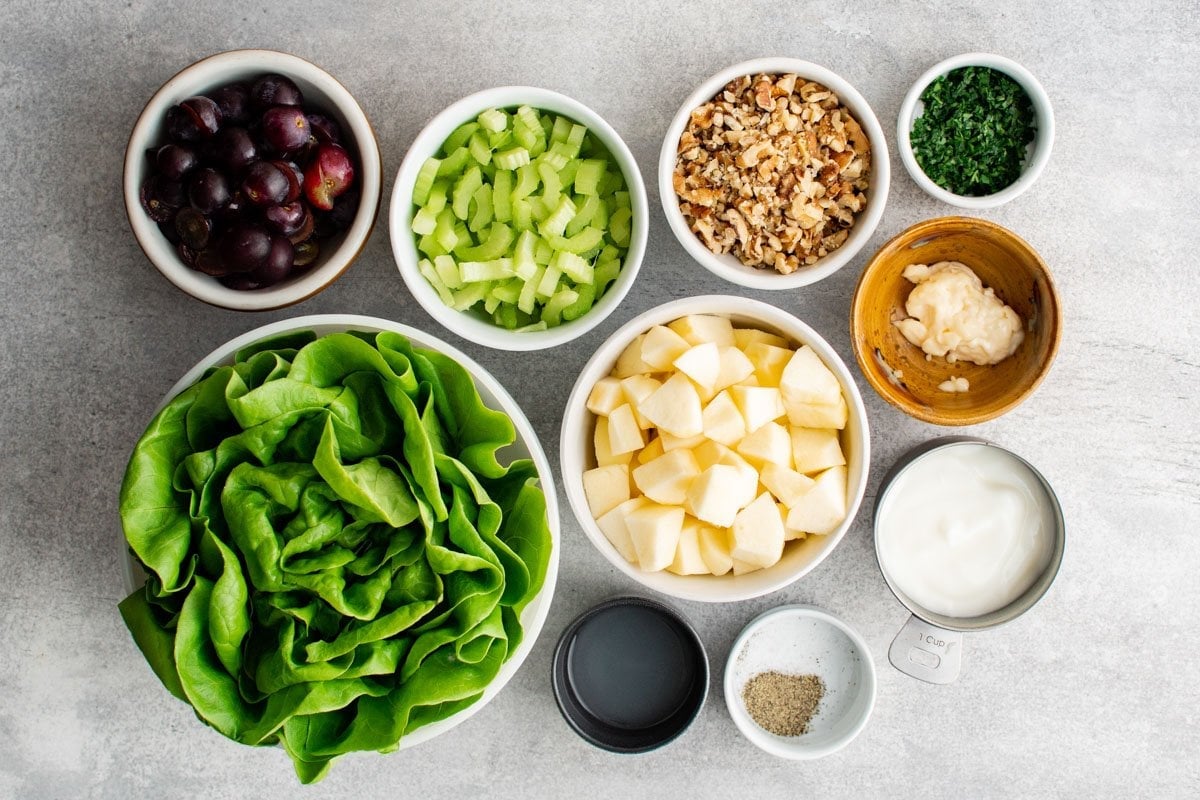 How To Make Waldorf Salad
Be sure to check the recipe card below for full ingredients & instructions.
This simple fruit salad recipe comes together in just a few minutes. Here's how it's done:
In a large bowl, whisk together dressing ingredients until well combined. Add a pinch of salt and a pinch of pepper.
Add apples, grapes, celery, walnuts, and parsley to the bowl and stir to coat well.
Can be served immediately, or chilled for even better flavor. Serve in small glass/plastic cups or dishes, or in lettuce cups. Enjoy!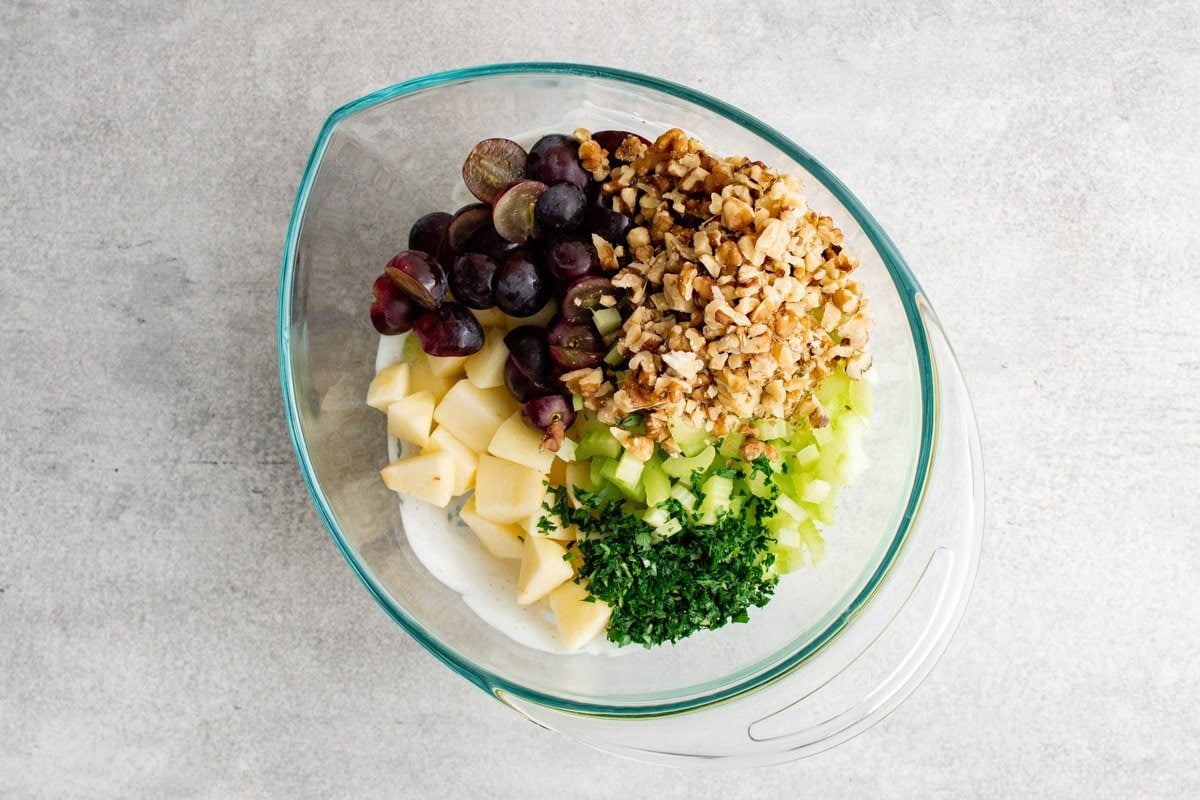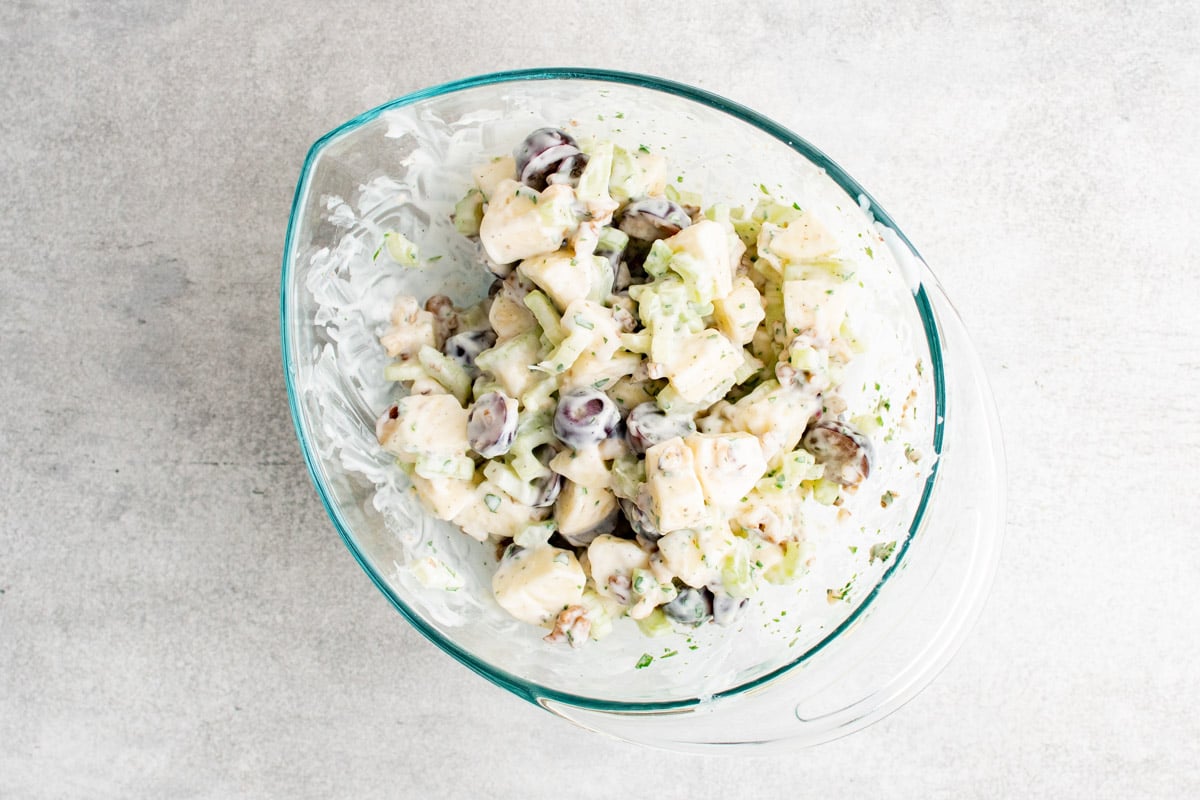 FAQs
Why is it called Waldorf Salad?
The original recipe for this apple celery salad originated in the late 1800s in New York City. It was served at a fundraiser at the Waldorf-Astoria hotel, and so the salad was named for its place of birth. Funnily enough, the original recipe for Waldorf salad only called for apples, grapes, celery, and mayonnaise — nuts, lemon juice, parsley, and the other fixin's weren't introduced to the scene until the 1920s!
What are the best apples to add to this salad?
I'm a big fan of apples that are both crisp and sweet. I tend to reach for options like Honeycrisp, Pink Lady, Fuji, Gala, Jazz, or Cosmic Crisp.
Is creamy Waldorf dressing good for you?
I'd venture to say this creamy dressing is pretty darn healthy! Made with primarily greek yogurt, it is high in protein and probiotics. It also has just a measly tablespoon of mayonnaise, which is parsed out over 8-10 servings. NOTE: Please consult with a professional nutritional expert before making any dietary decisions.
How To Serve
Typically speaking, apple walnut Waldorf salads are served as a light appetizer, either for lunch or for dinner. That said, there's more than one way to eat this tasty, crunchy delight! Here are a few ideas for you:
Serve in pretty glass or plastic cups if you're hosting a party where people will be milling about.
Use butter lettuce leaves to make individual portions in easy to grab single servings.
Turn it into a sandwich: Toast a brioche bun or Hawaiian rolls and add a few scoops of the salad and several butter lettuce leaves.
…or sliders! Do the same as above, but make them miniatures.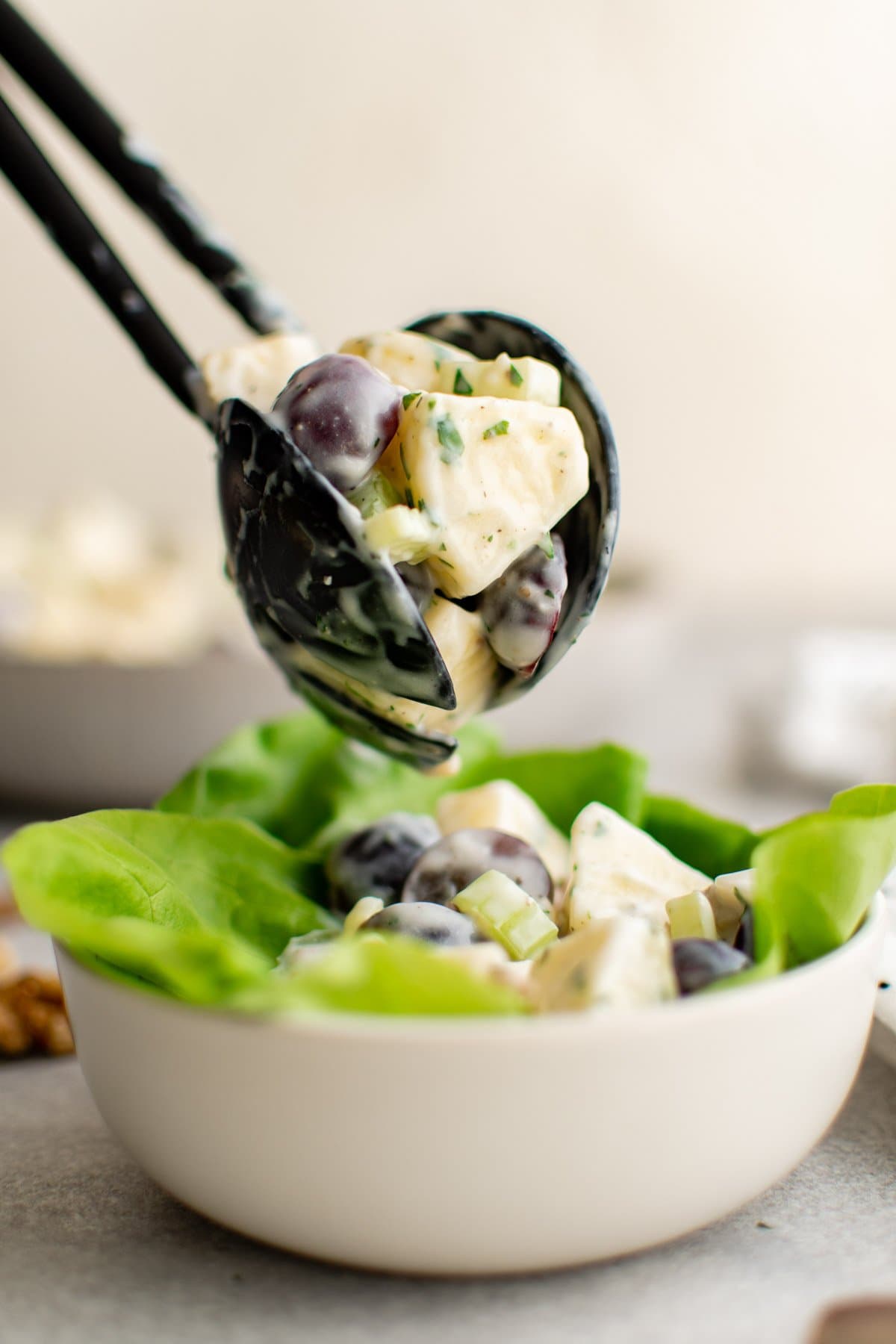 Optional Variations
It's hard to improve on the perfection that is my vegetarian Waldorf salad recipe, but I'm always game to try! Here are a few ideas for how you can customize these delicious salad cups:
Bulk it up with add-ins: these can include tart dried cranberries or sweet raisins, crunchy toasted nuts or seeds, cooked whole grains like barley or quinoa, or proteins like cubed chicken or turkey breasts.
Make it vegan: Opt for a plant-based vanilla yogurt and vegan mayo instead.
Make it sugar-free If you or your loved ones can't have refined sugar, opt for plain Greek yogurt and doctor it up with the zero-calorie sweetener of your choice.
Storing and Reheating Leftovers
Since the Waldorf dressing for this creamy fruit salad is made with mayonnaise and yogurt, you should keep the salad refrigerated until you are ready to serve.
The salad dressing can be made up to 3 days in advance and kept in the refrigerator. The salad itself can be prepped up to 24 hours in advance, with a small caveat. Make sure to hold off on adding the apples until you're ready to serve, or you'll risk them turning brown.
Leftover apple walnut Waldorf salad can be refrigerated for up to 3 days.
Expert Tips
Use two plates or storage container lids to help you quickly cut your grapes. Rather than individually slicing your grapes, save yourself major time by adding a handful or two to a rimmed plate or lid, then place an identical one on top. Use slight pressure from your non-dominant hand to hold the top plate in place, then slice right through the middle. It's like magic! Oh, and this trick also works for cherry tomatoes. You're welcome.
If you're making this ahead of time, be sure to protect your apples from oxidization. Feel free to use an apple corer/slicer combo, then assemble the pieces back together using a rubber band. When it comes time to serve, unband the apples and do a final chop to make them bite-sized, then toss to coat.
Consider your colors. Depending on the occasion and your serving plates, you can adjust what color grapes or apples you're using. For example, if you're throwing a Christmas cocktail party, you might opt for red-skinned apples (like Cosmic Crisp) and green grapes. For a springtime celebration, you might want to consider an all-green palate.
Add an ice bath to keep your salad cool. If you plan on serving this creamy apple walnut salad at an outdoor event, consider using nesting bowls. Add the salad to the smaller bowl and make an ice water bath (with salt, if you have it) in the larger bowl. That way, you can rest the inner bowl on the chilled surface, keeping your contribution food safe and fancy-free!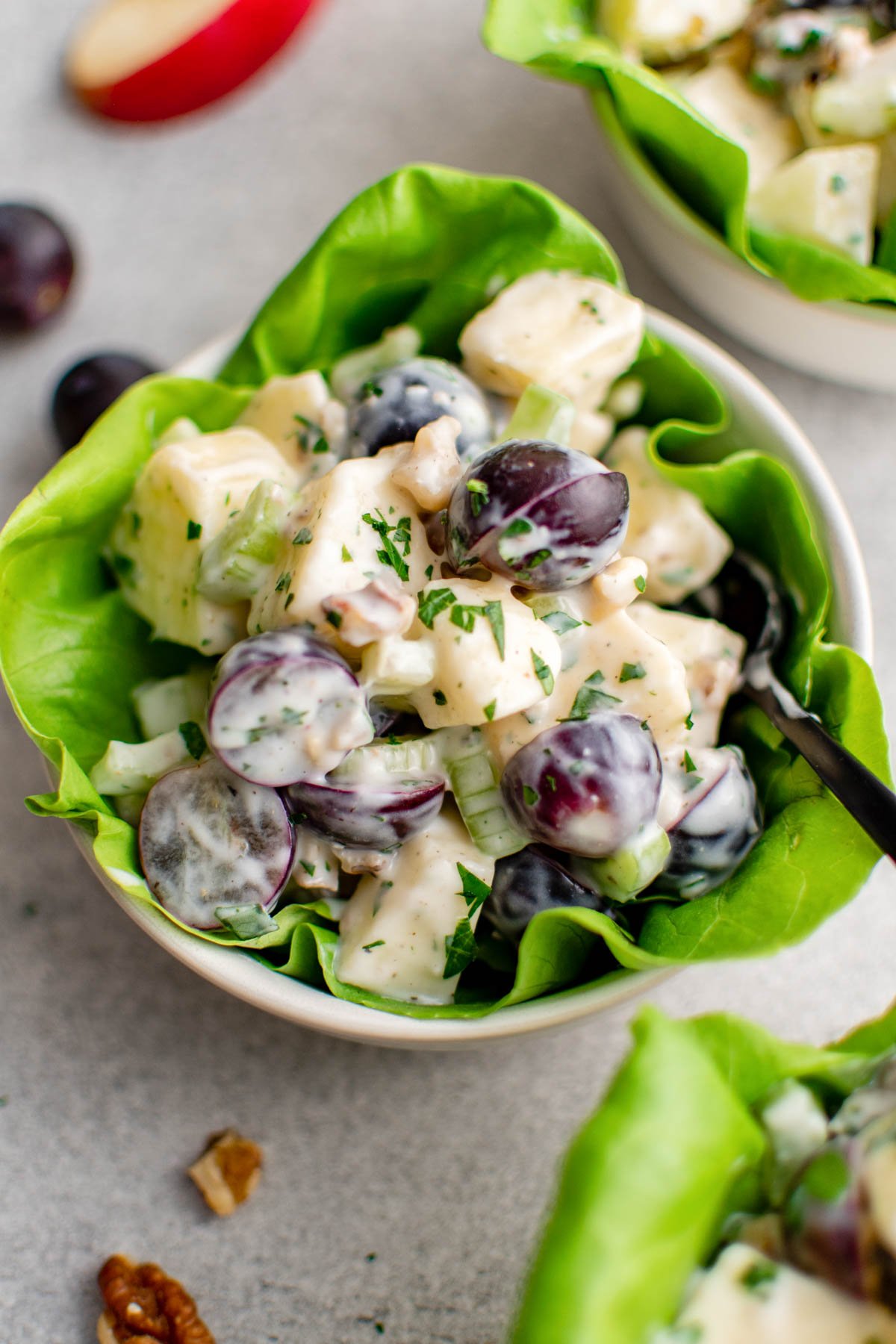 More Healthy Appetizers To Try
If you've made this recipe, please come back and leave us a star rating or a comment below.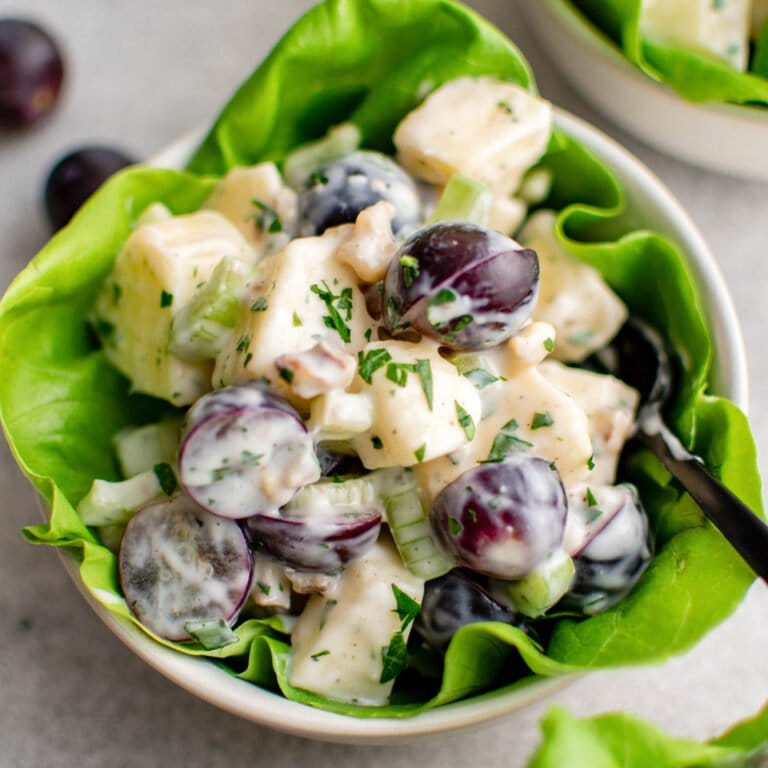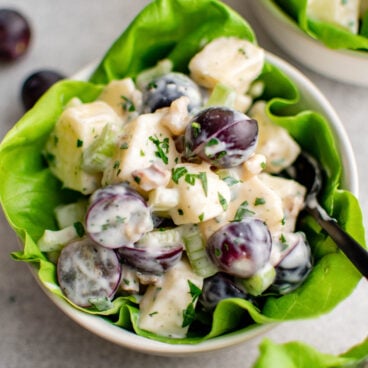 Waldorf Salad
This recipe for Waldorf Salad Cups has sweet fruits, crunchy celery, and a creamy yogurt-mayo dressing and takes just 15 minutes to make.
Ingredients
Salad
1

cup

grapes

sliced in half

2

sweet crisp apples

Pink Lady or Gala, peeled and diced

1

cup

chopped celery

½

cup

chopped walnuts

Boston lettuce leaves for serving

if desired
Dressing
⅔

cup

vanilla Greek yogurt

1

tablespoon

mayonnaise

1

tablespoon

lemon juice

1

tablespoon

finely minced parsley

Salt and pepper

a pinch of each, to taste
Instructions
In a large bowl, whisk together dressing ingredients until well combined. Add a pinch of salt and a pinch of pepper.

Add apples, grapes, celery, walnuts and parsley to the bowl and stir to coat well.

Serve in small cups or in lettuce cups.
Nutrition
Calories:
91
kcal
Carbohydrates:
11
g
Protein:
2
g
Fat:
5
g
Saturated Fat:
1
g
Polyunsaturated Fat:
3
g
Monounsaturated Fat:
1
g
Trans Fat:
1
g
Cholesterol:
1
mg
Sodium:
23
mg
Potassium:
138
mg
Fiber:
2
g
Sugar:
8
g
Vitamin A:
111
IU
Vitamin C:
4
mg
Calcium:
14
mg
Iron:
1
mg