Cilantro Lime Shrimp Recipe (Costco Copycat)
Cilantro Lime Shrimp are insanely flavorful and easy to whip up in about 10 minutes. They are delicious served chilled on a platter for a super easy appetizer or as the main meal.
Chill them and add them to a salad, or serve them up warm in soft tacos and quesadillas, these Cilantro Lime Shrimp are so versatile!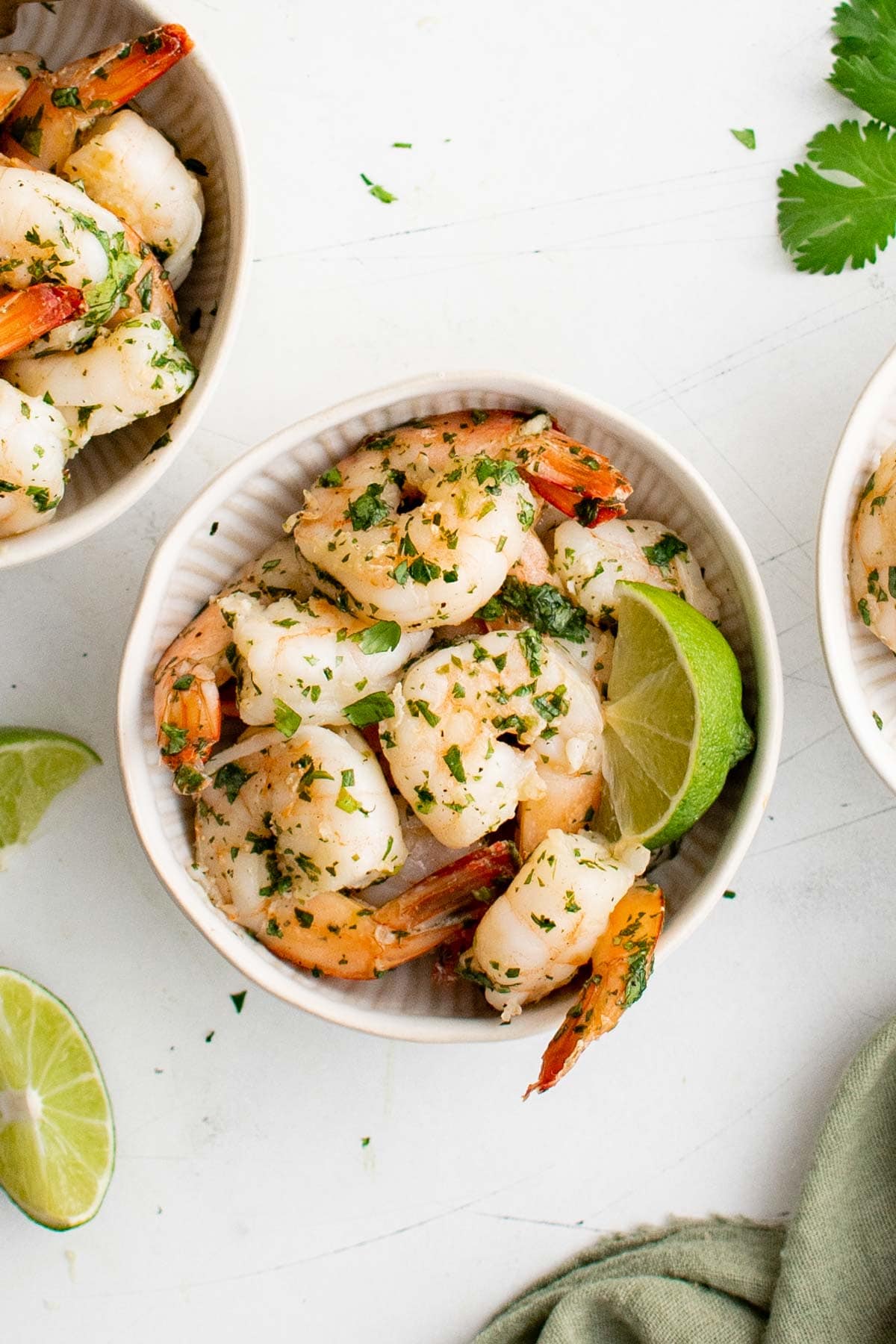 For more shrimp recipes, try my Popcorn Shrimp, Coconut Shrimp, and Mexican Shrimp Cocktail.
Table of Contents
Costco's Cilantro Lime Shrimp
I came across this delicious snack a few years ago when shopping at Costco and my family become obsessed! But let's face it, I'm not going to be running to Costco all the time to get them, so I had to come up with a similar recipe that would be a great copycat cilantro lime shrimp recipe.
It's so easy – You'll love the tangy dressing/marinade because it's really only got a few fresh ingredients.
Make a lot or a little – You can easily scale the recipe up or down to make a little snack or feed a large crowd at a party.
Customize – With so few ingredients, you can easily adjust the flavors to suit your tastes, add heat or even a touch of sweetness if you prefer.
Ingredients For Cilantro Lime Shrimp
Large Shrimp – You'll get about 31-35 shrimp per pound of this size, which is a great appetizer size. It's also perfect for shrimp taco bites. I highly recommend buying already peeled and deveined shrimp, otherwise you'll have to peel and devein shrimp yourself.
Fresh Lime Juice – You really want to grab some fresh fruit for this marinade. They are inexpensive and a thousand times better than what you'll get in a bottle. Pro Tip – Roll the lime on the counter for 20 seconds before slicing; it will bring out all of the natural juice.
Cilantro – Use a big bunch of fresh cilantro and chop it up. Parsley can be substituted if you're looking for a fresh flavor that's not cilantro.
Garlic – Fresh of course, is best. But jarred minced garlic can be swapped.
Olive Oil – Extra virgin, good quality.
Salt and Pepper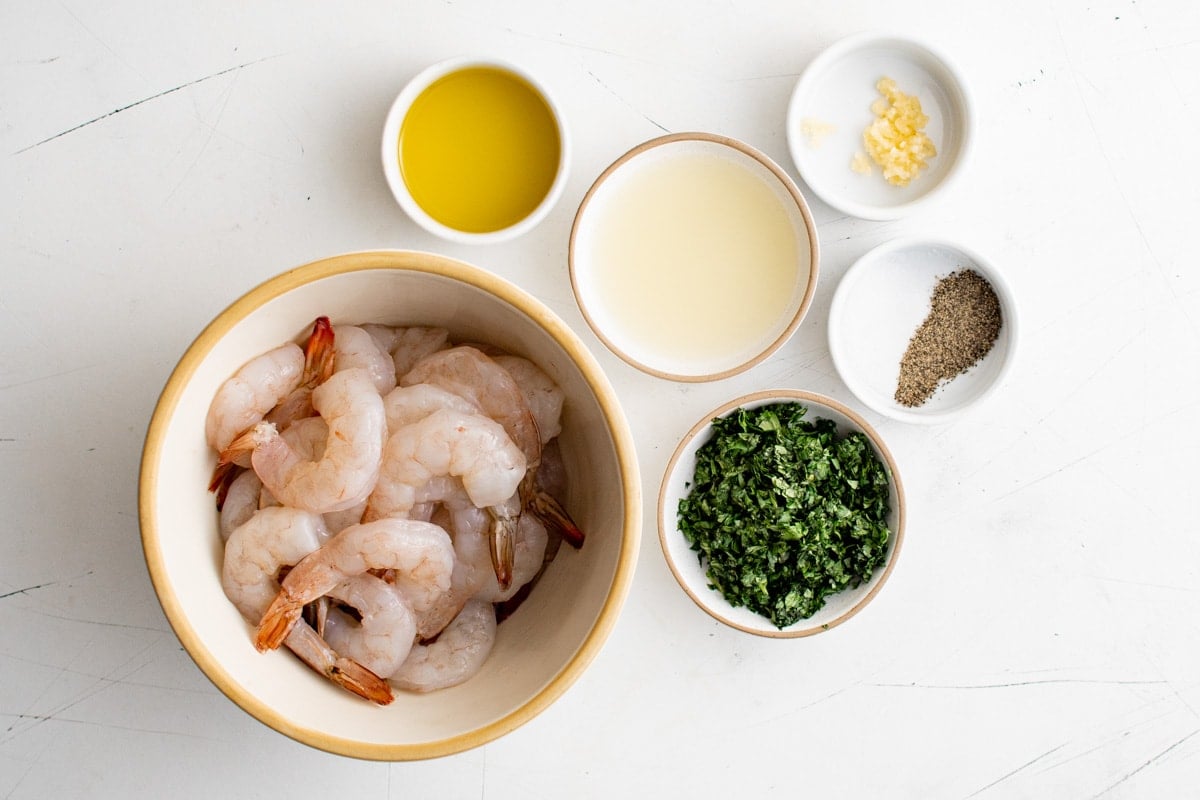 How To Make Cilantro Lime Shrimp
Be sure to check the recipe card below for full ingredients & instructions.
Prepare the shrimp. Wash, peel, and devein. I prefer to buy shrimp where this is already done for me, but if that's not possible you'll want to do it before cooking.
Cook the shrimp. Heat olive oil and garlic in a large skillet for about 30 seconds over medium heat, then add the shrimp to the skillet and cook for 1-2 minutes per side. Transfer the cooked shrimp to a bowl and tent with foil to keep warm.
Make the sauce. Add chopped cilantro, lime juice, salt, and pepper to the bowl and toss with the shrimp until it's well mixed. Serve as desired.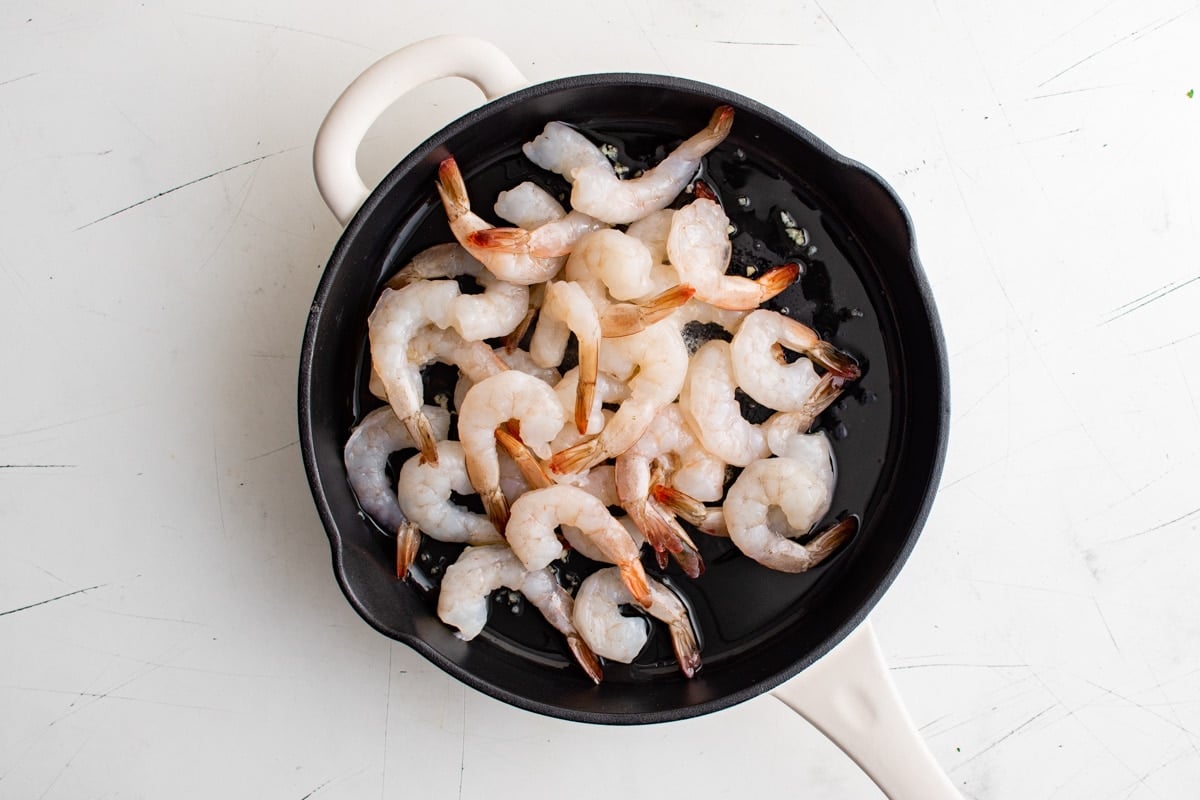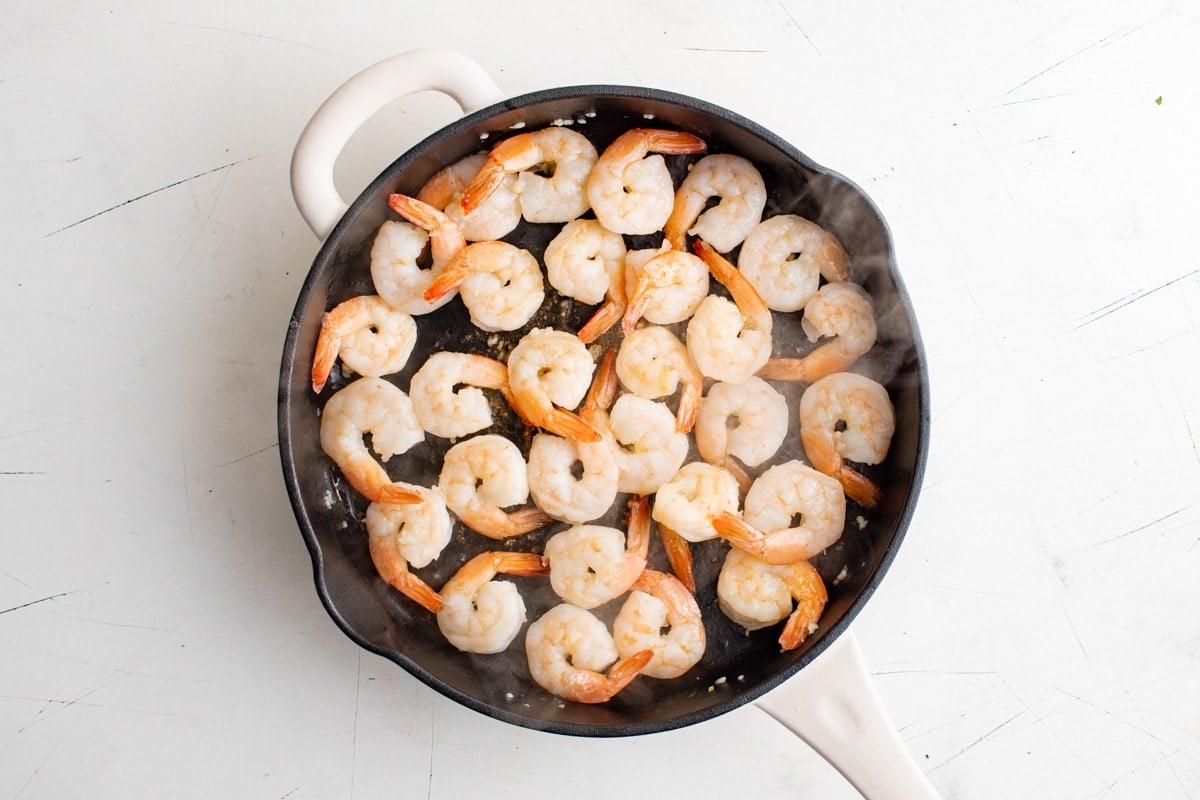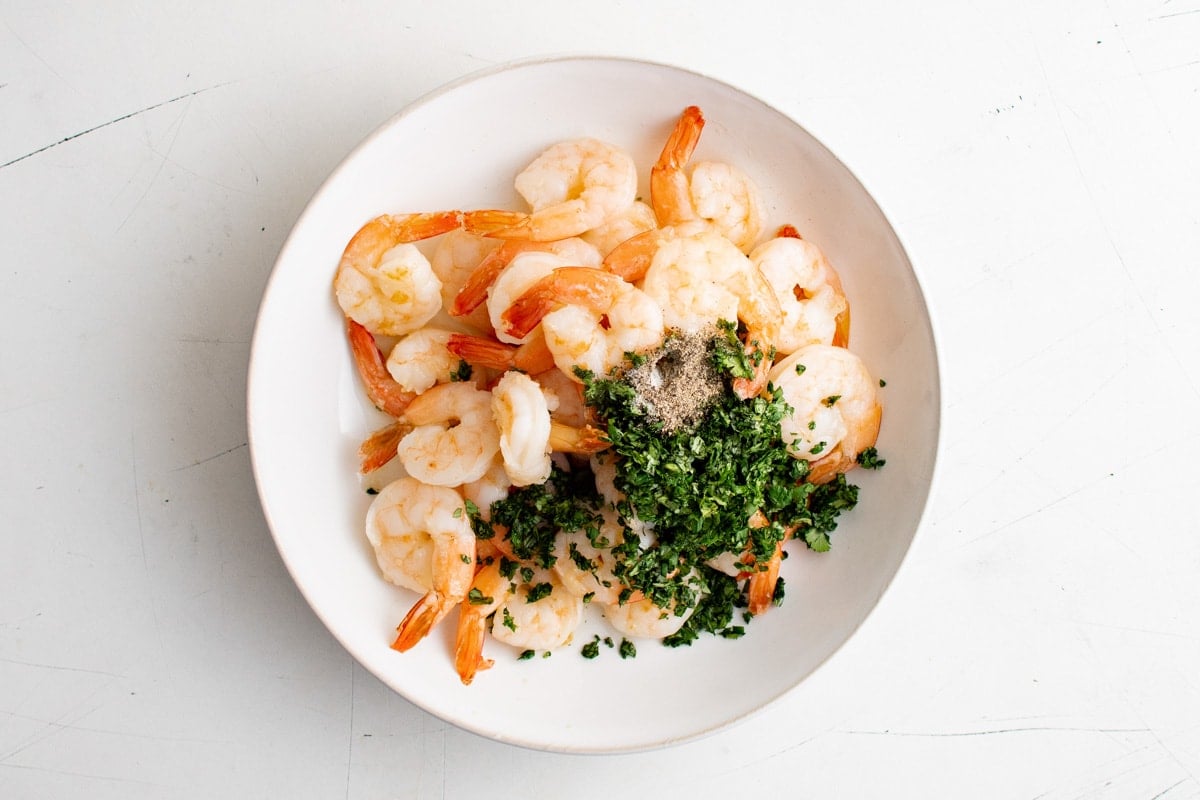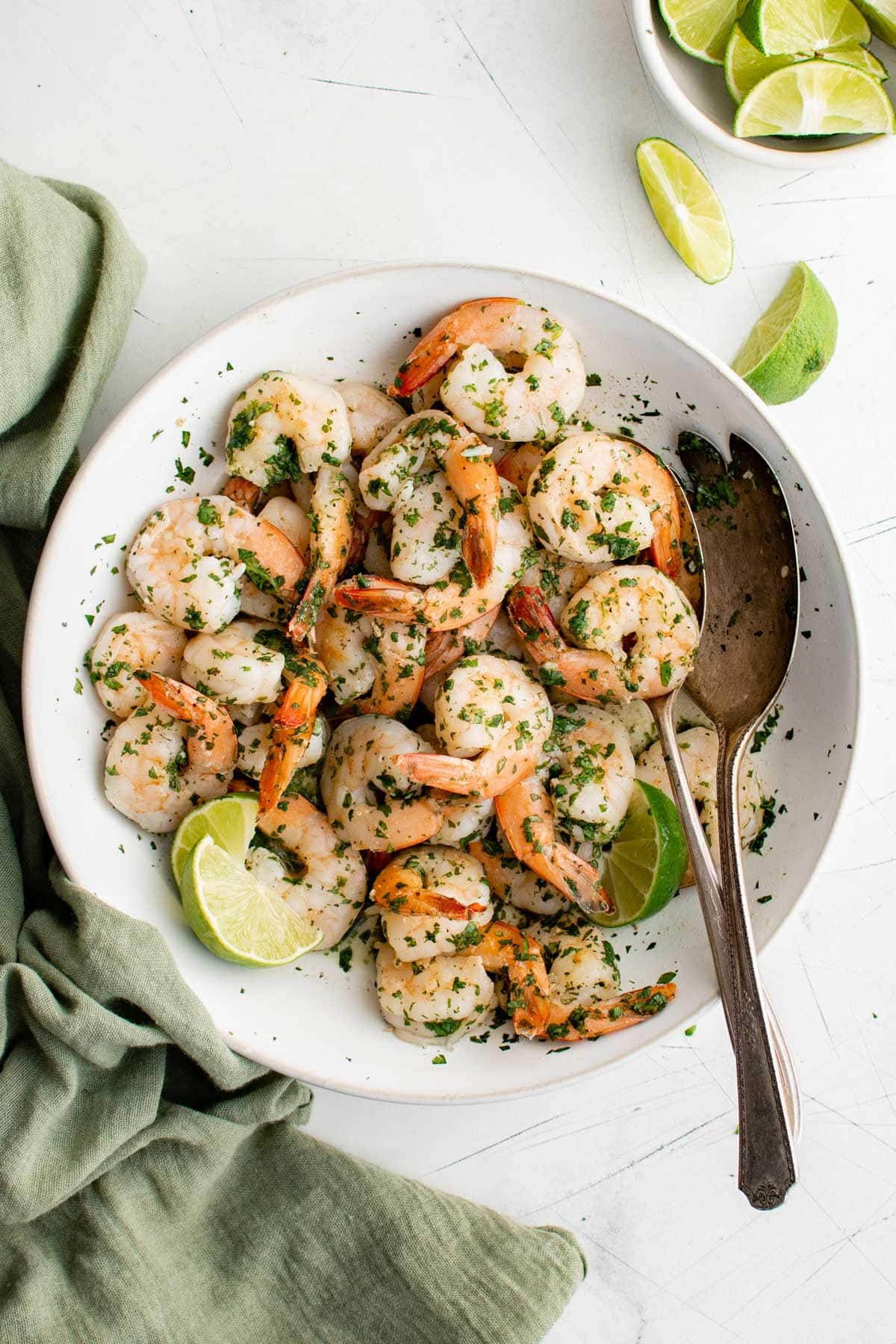 FAQs
What does lime do to shrimp?
The acid in lime juice, and other citrus fruits, will actually "cook" the shrimp by breaking down the proteins and destroying any harmful bacteria, making it safe to eat. There is also the risk of overcooking, so you need to watch the amount of time you leave uncooked shrimp and other meat marinating in citrus.
How do you NOT overcook shrimp?
Shrimp cook very quickly, turning from a dull gray to a bright pink in just a couple of minutes, so it's important to keep a close eye on them. You can cook them longer over a low heat, but I prefer to sear them quickly over higher heat. The result is a juicy, succulent shrimp with a great texture. Pro Tip: If the tails start to curl, get them off the heat because they're about to overcook, and no one likes overcooked shrimp.
Can you use frozen shrimp?
Typically the shrimp you'll find in the seafood counter of your grocery store was previously frozen, so yes, using frozen shrimp is fine. Just thaw it completely and use it within a day of defrosting. However, if you can find them I highly recommend fresh shrimp for the best flavor.
Serving Suggestions
This easy shrimp recipe can be served in a variety of ways. The easiest way to enjoy these juicy shrimp is to just arrange them on a platter or in a shallow bowl with shrimp forks or toothpicks and let your guest have at it. They are great served cold or warm. Try placing a few on wooden skewers for a fun presentation.
As a main dish, there are lots of different options! You can stuff them into shrimp tacos, chop them up and scatter on top of nachos or in salsa. For a light dinner, serve them on top of a big green salad.
Whatever you do, be sure to include some Mezcal Margaritas!
Storing and Reheating Leftovers
The lime juice will help to preserve the shrimp, so they will stay fresh for about 3-4 days. Store leftovers in an airtight container in the fridge.
If you want to reheat, do it quickly in a skillet over medium-high heat. Just let them kiss the skillet for a 10-15 seconds.
Expert Tips
For a more intense lime flavor, add some lime zest to the sauce.
Add some heat to the sauce with a pinch of red pepper flakes, or sweeten it up with a kiss of honey.
Want to serve with a dip? Try mixing up a garlic-lime mayo for a tangy aioli, a chili-lime sour cream or serve with chips and homemade guacamole or Avocado Dip.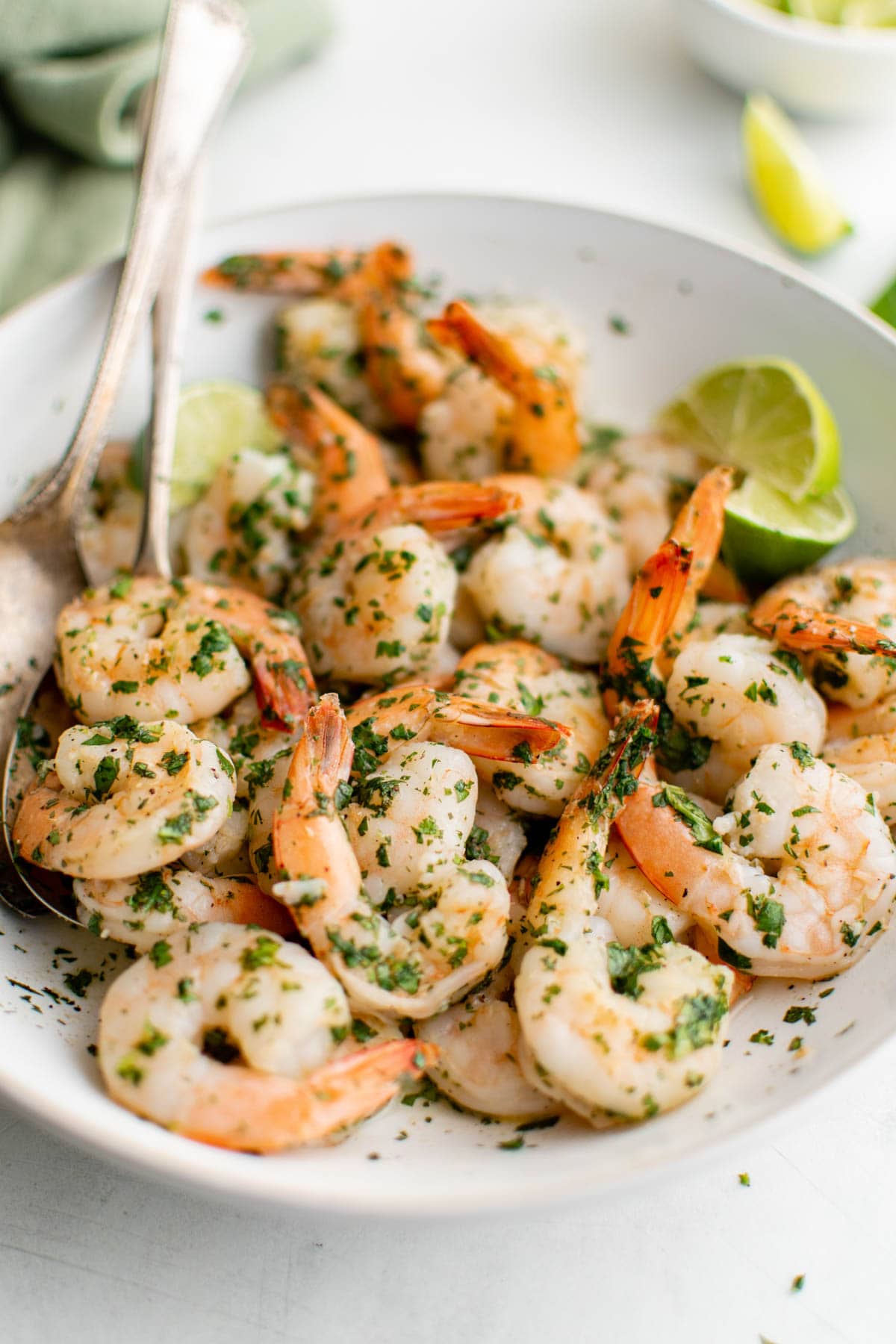 More Tasty Appetizers
If you've made this recipe, please come back and leave us a star rating or a comment below.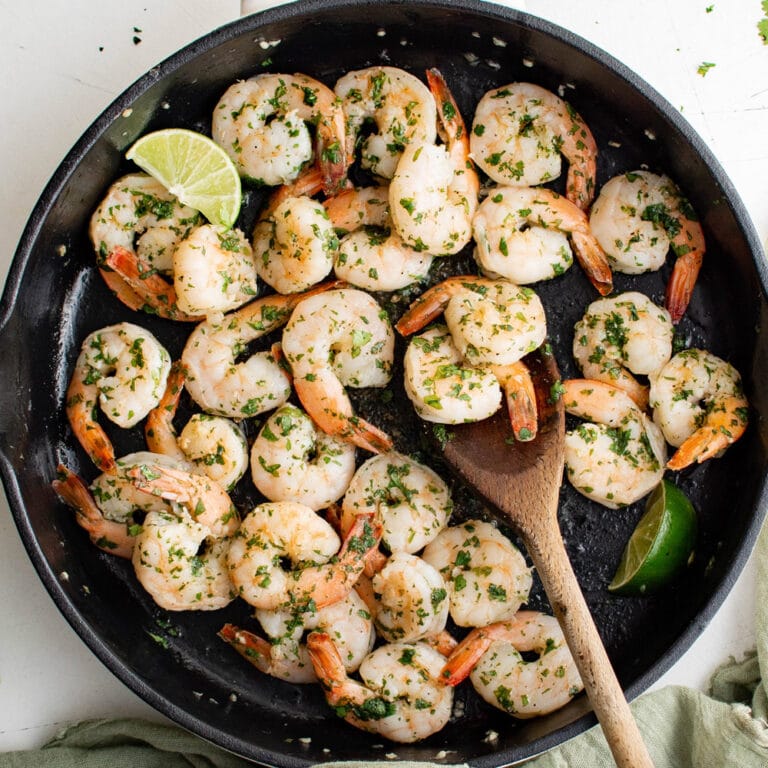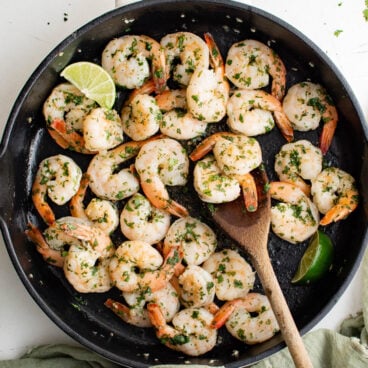 Cilantro Lime Shrimp
Cilantro Lime Shrimp are insanely flavorful yet simple 10 minute recipe. Serve chilled or warm, as an easy appetizer or as the main meal.
Ingredients
1

tablespoon

olive oil

1

garlic clove

minced

1

pound

large shrimp

peeled and deveined, tails on

2

tablespoons

fresh lime juice

or more to taste

¼

cup

fresh chopped cilantro

¼

teaspoon

salt

more or less to taste

Pinch

of ground black pepper
Instructions
Heat a large skillet over medium-high heat and melt the olive oil. Stir in the garlic, cooking for about 30 seconds.

Add the shrimp to the skillet, cooking for 1-2 minutes per side. Transfer to a large bowl.

Add the cilantro, lime juice, salt and pepper to the bowl and toss to coat well.

Serve warm or chilled.
Nutrition
Calories:
57
kcal
Carbohydrates:
1
g
Protein:
8
g
Fat:
2
g
Saturated Fat:
1
g
Polyunsaturated Fat:
1
g
Monounsaturated Fat:
1
g
Trans Fat:
1
g
Cholesterol:
71
mg
Sodium:
394
mg
Potassium:
73
mg
Fiber:
1
g
Sugar:
1
g
Vitamin A:
138
IU
Vitamin C:
1
mg
Calcium:
32
mg
Iron:
1
mg