Olive Tapenade is a salty, flavorful spread that is fabulous served on grilled crostini. An easy appetizer that is perfect year-round and is even make-ahead friendly. It's a great vegan and vegetarian option for any party.
The salty/briny flavor of this olive tapenade recipe is completely cravable and a perfect compliment to richer, heavier appetizers like Bacon Wrapped Jalapeno Poppers and Queso Blanco Dip.
Table of Contents
Why We Love Olive Tapenade
15 Minutes to Make – Olive tapenade is so quick to make!
Pantry Ingredients – Tapenade is made with all pantry ingredients that you can stock up on in advance.
Grilled Appetizer – If you're already firing up the grill, then you can grill up the crostini to pair with the tapenade.
Make Ahead Friendly – The tapenade can be mixed up days in advance to save time the day of.
Olive Tapenade Ingredients
Olive are a pantry staple and something I always have on hand. Keep these ingredients handy so you can make yourself some tapenade whener the craving hits!
Olives – Both Manzanilla (spanish green olives with a firm texture and a briny, bitter taste) and Kalamata olives (Greek olives with a deep purple color and a milder flavor).
Capers – For an added briny flavor.
Lemon Juice – Fresh is best!
Olive Oil
Spices – Garlic salt and dried parsley. You can also use fresh garlic cloves or fresh herbs if you prefer.
French Baguette – sliced, for serving. Can be toasted, grilled or served plain.
How To Make Olive Tapenade
Be sure to check the recipe card below for full ingredients & instructions.
It only takes 15 minutes to mix up this flavorful appetizer.
Blend Tapenade – Add the tapenade ingredients to a small food processor and pulse to combine. You want the ingredients to be ground up and well combined, but not overly smooth. Scoop the mixture into a serving bowl.
Grill Bread – Heat up a grill pan or grill and brush the bread slices with olive oil on one side. Place the bread on the grill pan with the oil side up. Grill for 1-2 minutes until the bottom has grill marks then flip and grill for another 30 seconds to 1 minute to lightly brown the other side.
Serve – Top the grilled bread slices with the tapenade and enjoy!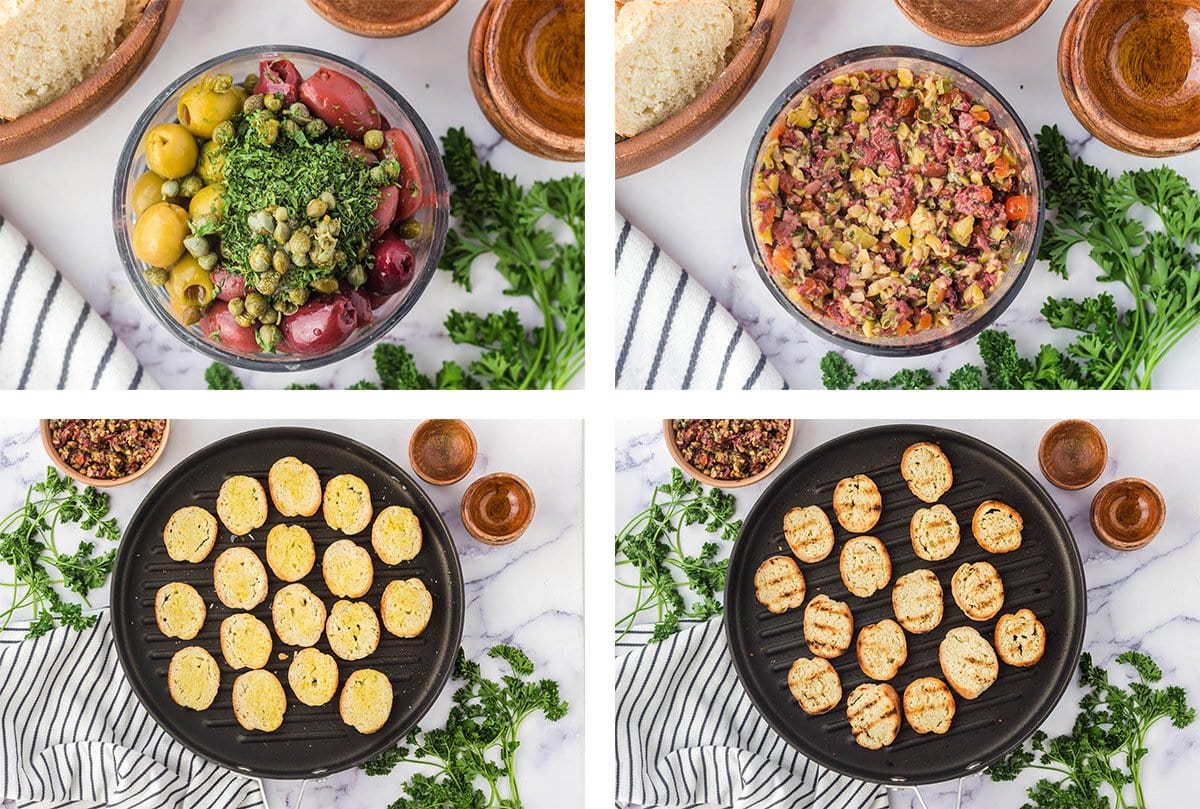 FAQs
Does tapenade need to be refrigerated?
Yes, if you have leftovers, they should be refrigerated for optimal freshness.
Where was tapenade invented?
Tapenade originates from France and its name comes from the Provencal word for capers. It is a very popular food in the South of France where it is typically served on bread or even with poultry as a main course.
Can you make it ahead of time?
While you can prepare the olive mixture in advance, I prefer to grill the crostini just before serving.
How To Serve
As an appetizer or small bite hors d'oeuvres: Serve with grilled crostini. After topping the crostini, you can also give them an extra drizzle of olive oil and sprinkle of fresh parsley.
As a condiment: Try adding to a cheese board or use as a sandwich spread. You can even whisk in a spoonful of tapenade to a vinaigrette for a salad. Or try mixing with a splash of heavy cream to make an easy pasta sauce, or serve on top of roast chicken.
Serve on: Crostini (toasted baguette slices), pita bread or pita chips, or regular crackers.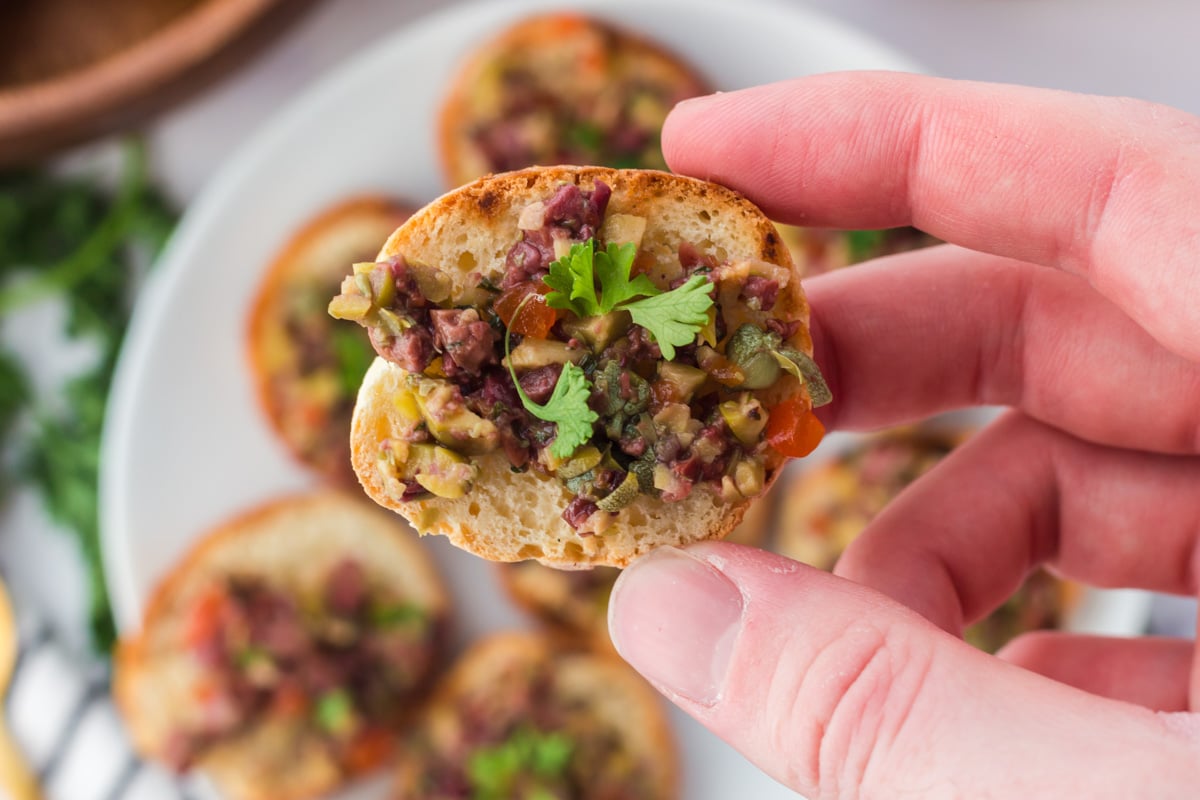 Variations
Olives – I love combining both manzanilla and kalamata olives for the best flavor, but you can also replace either of these olives with black pitted olives. The quantity will remain the same.
Anchovies – A tablespoon or two of anchovies adds a salty bite to the tapenade.
Cheesy – Spread some creamy goat cheese or boursin spread on the crostini before topping with the olive mixture.
Garlicky – Add a couple of fresh garlic cloves the the olive mixture.
Pepper – You will not likely need to add salt, but a pinch of fresh cracked black pepper can compliment the flavors nicely.
Storage
Store in an airtight container in the refrigerator for up to 2 weeks. The crostini is best eaten the same day that they are grilled.
Expert Tips
Brush Only One Side of the Bread Slices –

Brushing the bread with oil helps give it a nice flavor, but I found that brushing both sides prevented the bread from developing the beautiful grill marks. If you brush both sides the whole face of bread will brown, and you won't be able to see the grill marks.

Toasted Crostini – To toast instead of grill the bread, brush or drizzle one side of the bread slices with olive oil and bake at 375℉ for 7-9 minutes. Check the texture after 6-7 minutes and toast longer if needed.
Use Pitted Olives – Make sure that you use pitted olives for the tapenade. If any pits sneak in they may get chopped up into smaller pieces that are too hard to bite. To save time, you can buy pre-pitted olives at the store.
No Food Processor? – If you don't have a food processor, you can use a sharp knife to very finely chop up the olives and capers before stirring together.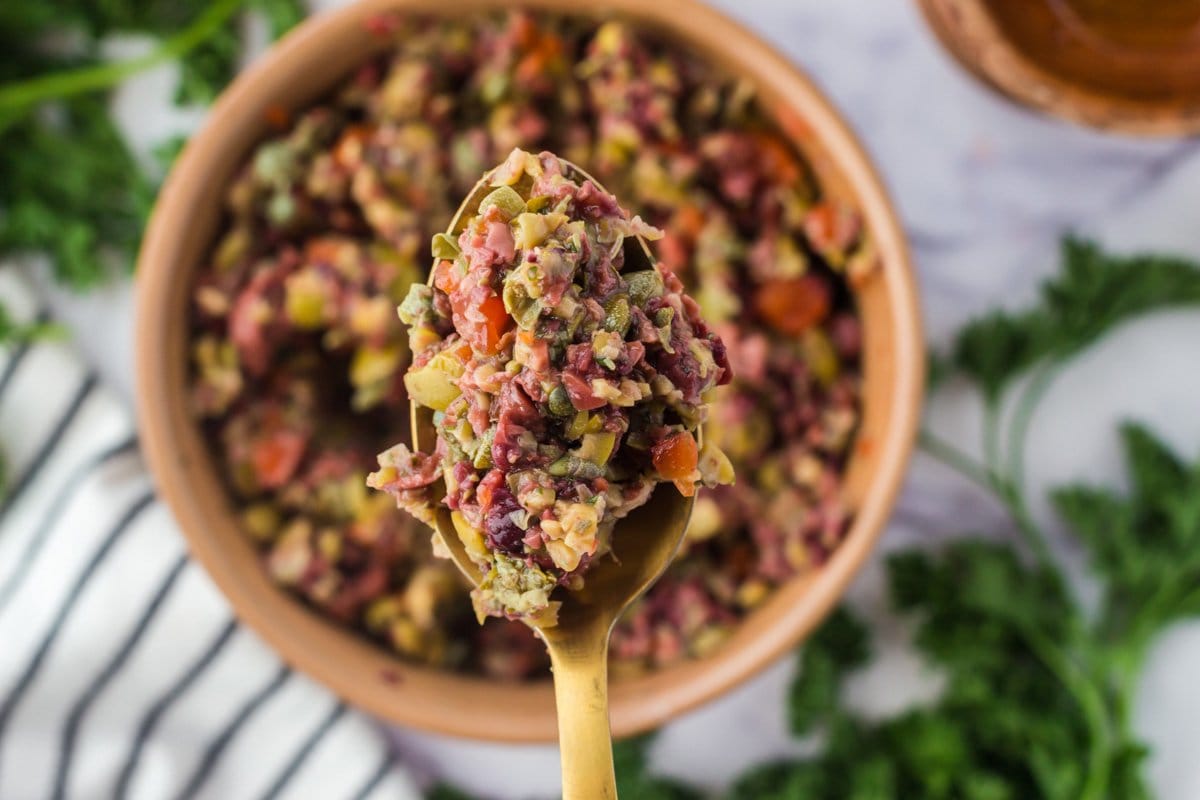 More Cold Appetizers To Try
If you've made this recipe, please come back and leave us a star rating or a comment below.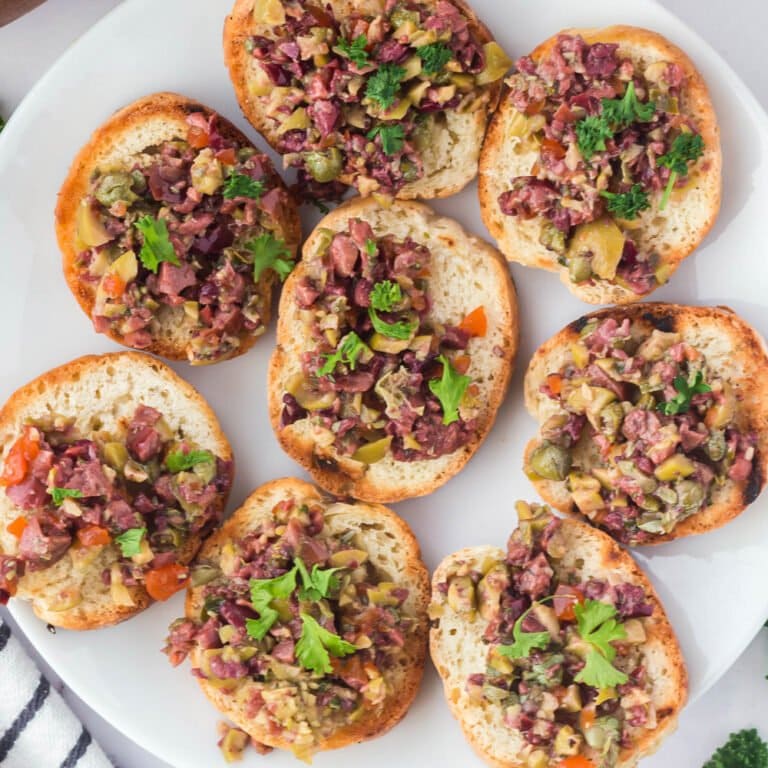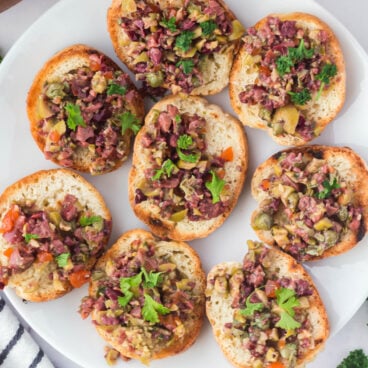 Olive Tapenade with Grilled Crostini
Olive Tapenade is a salty, flavorful spread that is make ahead friendly, and takes only 10 minutes to prepare. Serve on crostini or crackers.
Ingredients
1

cup

manzanilla olives

drained

1

cup

kalamata olives

drained

¼

cup

capers

1 ½

tablespoons

lemon juice

1 ½

tablespoons

olive oil

1

teaspoon

garlic salt

1

teaspoon

dried parsley

1

french baguette

sliced
Instructions
Olive Tapenade Mixture
Combine the olives, capers, lemon juice, olive oil, and spices in a small food processor and pulse for about 30 seconds, or until the ingredients are grounded and well combined. *You don't want the olives to be smooth, but in in small bits.

Scrape the tapenade mixture from the food processor and place in a serving bowl.
Grilled Crostini
Brush one side of the sliced baguette and place the bread on a grill pan oil side up.

Grill the bread for 1-2 minutes, or until the bottoms have grill marks. Flip the bread and cook for an additional 30 seconds to 1 minutes to allow the side with oil to brown slightly.

To serve, top the crostini with tapenade and enjoy!
Notes
This recipe makes 1 ½ – 2 cups of prepared tapenade. You should plan approximately ¼ cup per person.
Store in an airtight container in the fridge for up to 2 weeks. The crostini is best eaten the same day that they are grilled.
Nutrition
Calories:
159
kcal
Carbohydrates:
17
g
Protein:
3
g
Fat:
9
g
Saturated Fat:
1
g
Polyunsaturated Fat:
1
g
Monounsaturated Fat:
6
g
Sodium:
1159
mg
Potassium:
54
mg
Fiber:
2
g
Sugar:
1
g
Vitamin A:
141
IU
Vitamin C:
1
mg
Calcium:
45
mg
Iron:
1
mg