If you're in the market for a fancy app that doesn't take much effort, this Mushroom Crostini is perfect for you!
Tangy goat cheese, sweet caramelized onions, and earthy, umami fungi team up with crunchy pieces of toasted baguette for this deliciously hearty vegetarian appetizer. Best of all, it takes just 8 ingredients and less than 25 minutes to get on the table.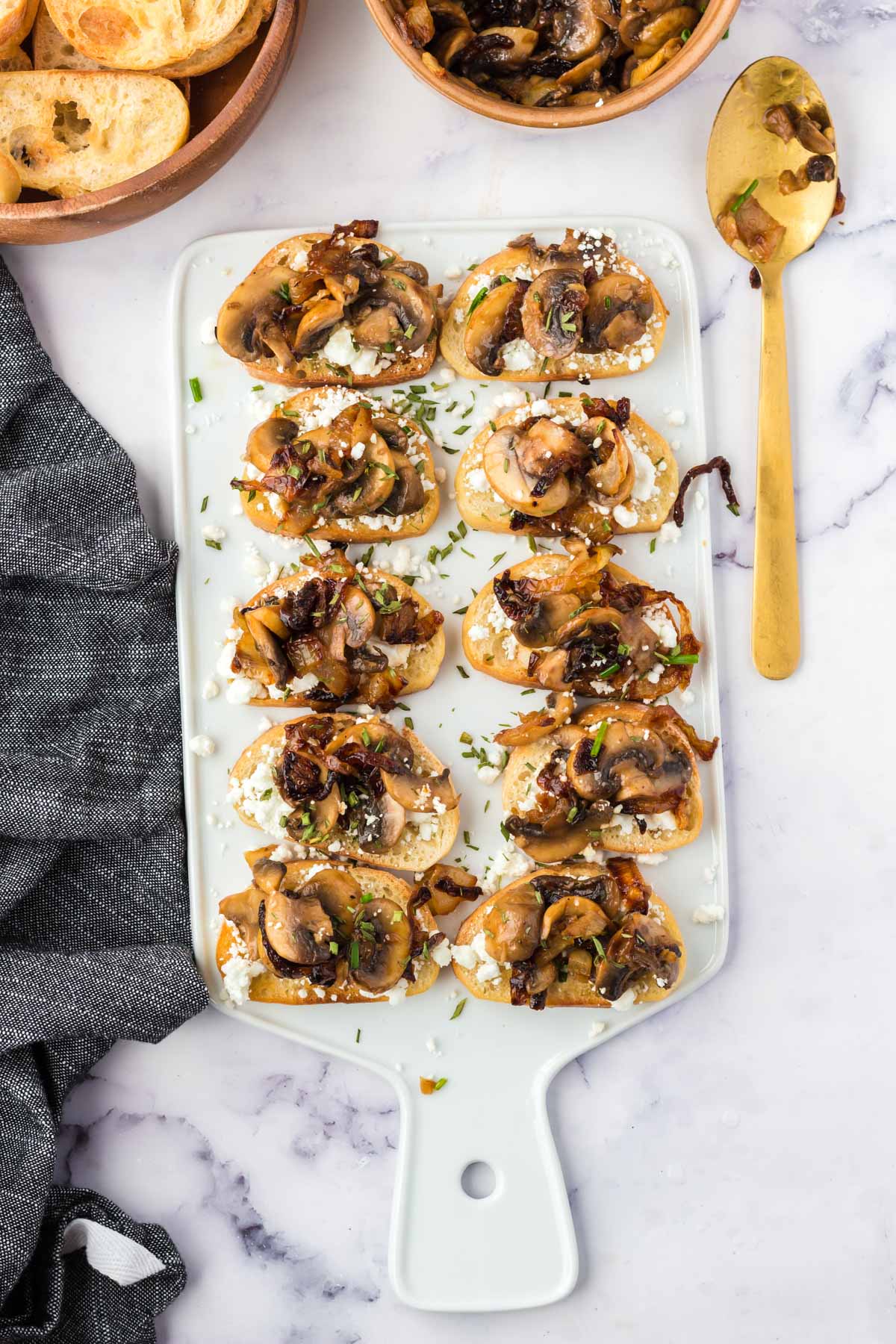 Table of Contents
Why You'll Love This Recipe
Today, we're making one of my favorite combinations: mushroom and goat cheese crostini. Sweet, golden caramelized onions, perfectly roasted garlicky mushrooms, and a scattering of goat cheese crumbles make for a delightfully elevated appetizer crostini that'll have your guests coming back for more. This recipe:
Takes Only 8 Ingredients! All you need to make these dinner party-worthy beauties are 8 simple ingredients, more than half of which I'd bet you already have on hand.
Is Quick & Easy. The recipe is straightforward and easy to follow; you'll be done in less time than it takes to watch an episode of Ted Lasso.
Is Perfect For Meal Prep. Perhaps my favorite part about making these mushroom crostinis is that everything can be made in advance. The mushroom mixture can be refrigerated for up to 4 days, and the baguette crostini pieces can be baked, cooled, and kept in an airtight container at room temp for up to 3 days.
What Are Crostini?
Literally translated to "little crusts," these traditional Italian toasts can be topped with anything under the sun. To make them, all you need is a baguette or crusty loaf of bread, some olive oil, and a few minutes in the oven.
You can think of them as large, skinny, flat croutons that are intended to be garnished with tasty goodness. Toppings like creamy mozzarella bruschetta, savory olive tapenade, thin slices of beef, or, in this case, garlicky mushrooms and caramelized onions. They provide a sturdy, crunchy base, making them a popular choice for cheese plates and charcuterie boards, among other things.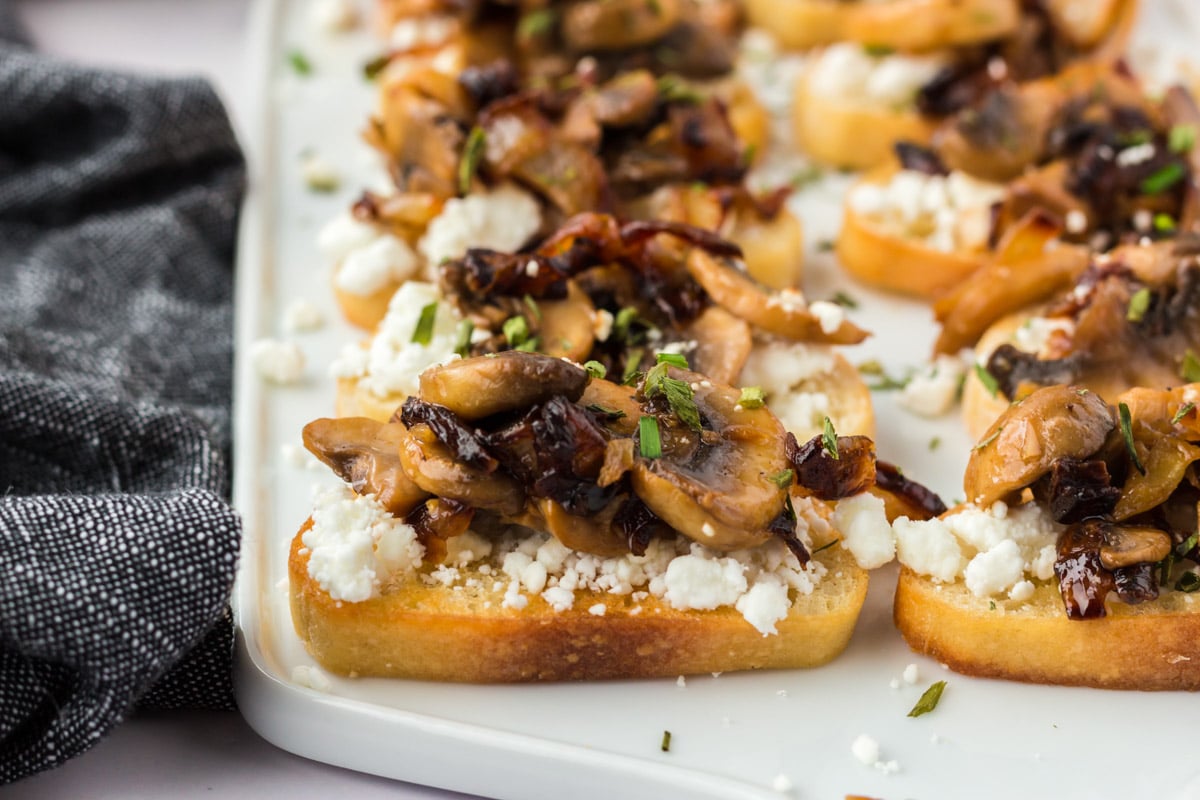 Ingredients for Mushroom Crostini
As promised, you don't need much to make these mushroom and cheese crostini. Here's your whole shopping list:
White Onion – Feel free to swap in yellow or red onions or choose shallots for a milder flavor.
Butter – I used salted butter here, but feel free to use unsalted and add seasoning to taste.
Extra Virgin Olive Oil
Garlic – Fresh garlic will yield the best flavor, but in a pinch, you can swap in ¼ teaspoon of garlic powder for each clove.
Salt – Kosher salt is all the seasoning you need.
Mushrooms – I typically use white button or baby bella mushrooms because they're inexpensive and always available. Feel free to experiment with other varieties like shiitake, oyster, porcini, or morels for more upscale wild mushroom crostini.
Baguette – I like baguettes because they are the perfect size for round crostini toasts, but you can easily swap in a larger crusty loaf if needed.
Goat Cheese – Pre-crumbled goat cheese is a great time saver here. However, a soft chevre cheese can be a great option as well because you can spread it right onto the toasts.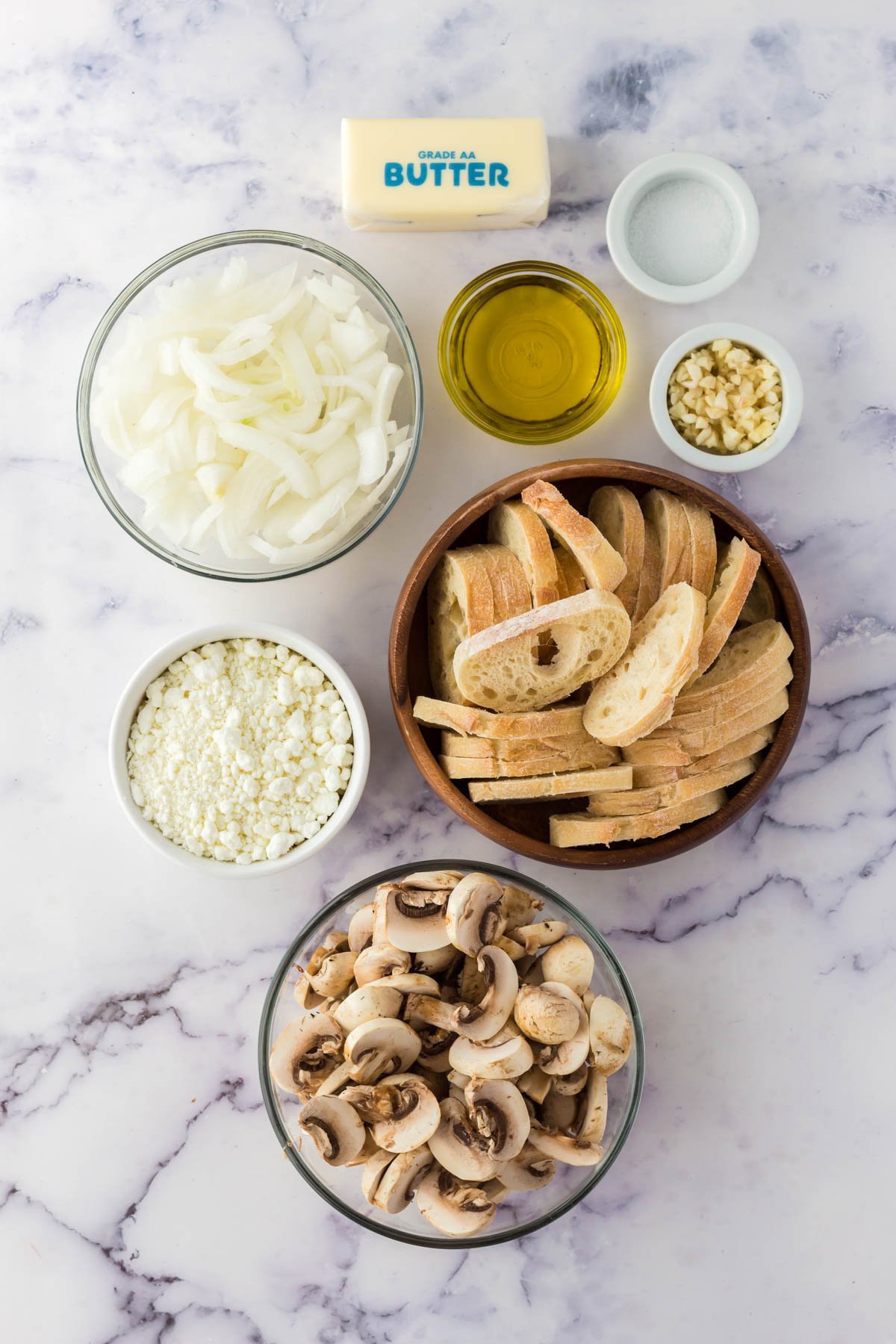 How To Make Mushroom Crostini
Be sure to check the recipe card below for full ingredients & instructions.
Caramelize Onions with butter and ¼ cup of olive oil over low-medium heat. This can take some time for the onions to soften; you don't want them to brown or burn. They will soften and turn a beautiful caramel color which could take up to 20 minutes – but your patience it totally worth it!
Sauté Mushrooms. Add the garlic, salt, and mushrooms. Continue cooking until they are golden brown and all the liquid has evaporated from the pan. Set aside.
Make Crostini. Brush baguette slices with remaining olive oil and bake for 5 minutes until golden and crisp.
Assemble & Enjoy. Top each crostini with a spoonful of goat cheese and mushrooms. Serve and enjoy!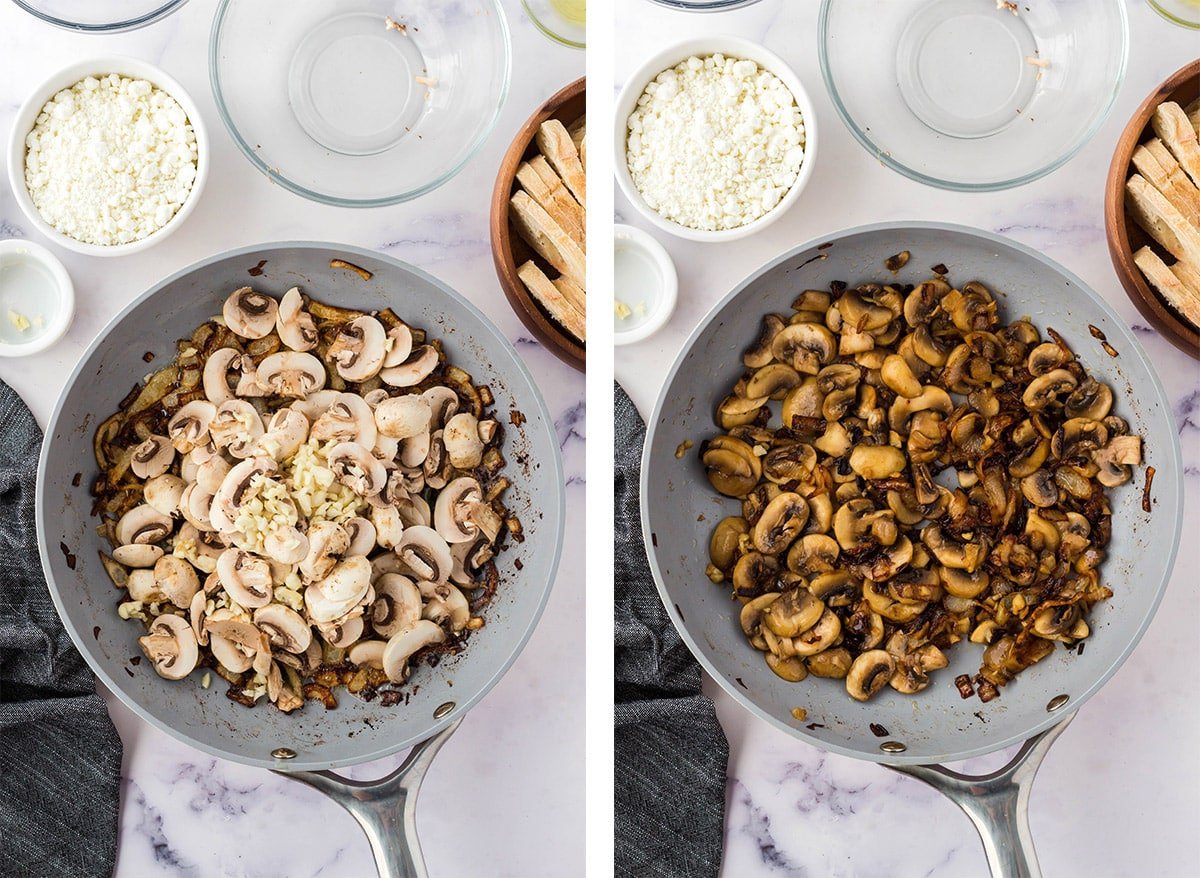 FAQs
Are crostini supposed to be hard or soft?
I think the ideal word here is "crisp." The exterior should have a crunchy surface, but the interior should still be somewhat soft and stretchy, like a pan-fried piece of toast. The key here is to get the oven temperature high enough to crisp up the outside without drying out the inside.
How can I revive stale crostini?
If your crostini are tasting a little stale, I suggest heating the oven and toasting them for 3-5 minutes on about 300℉. Please note, this will really only work once, so try not to let them get stale in the first place!
How To Serve
These homemade crostini are great topped with fresh herbs like dill or parsley.
If you use baguettes, they'll be the perfect size for any passed hors d'oeuvres. Feel free to make the crostini base in a larger, bruschetta-sized format for sit-down meals.
These mushroom toasts pair well with full-bodied wines like chardonnay or pinot noir and dark and/or hoppy beers like stouts, porters, and IPAs.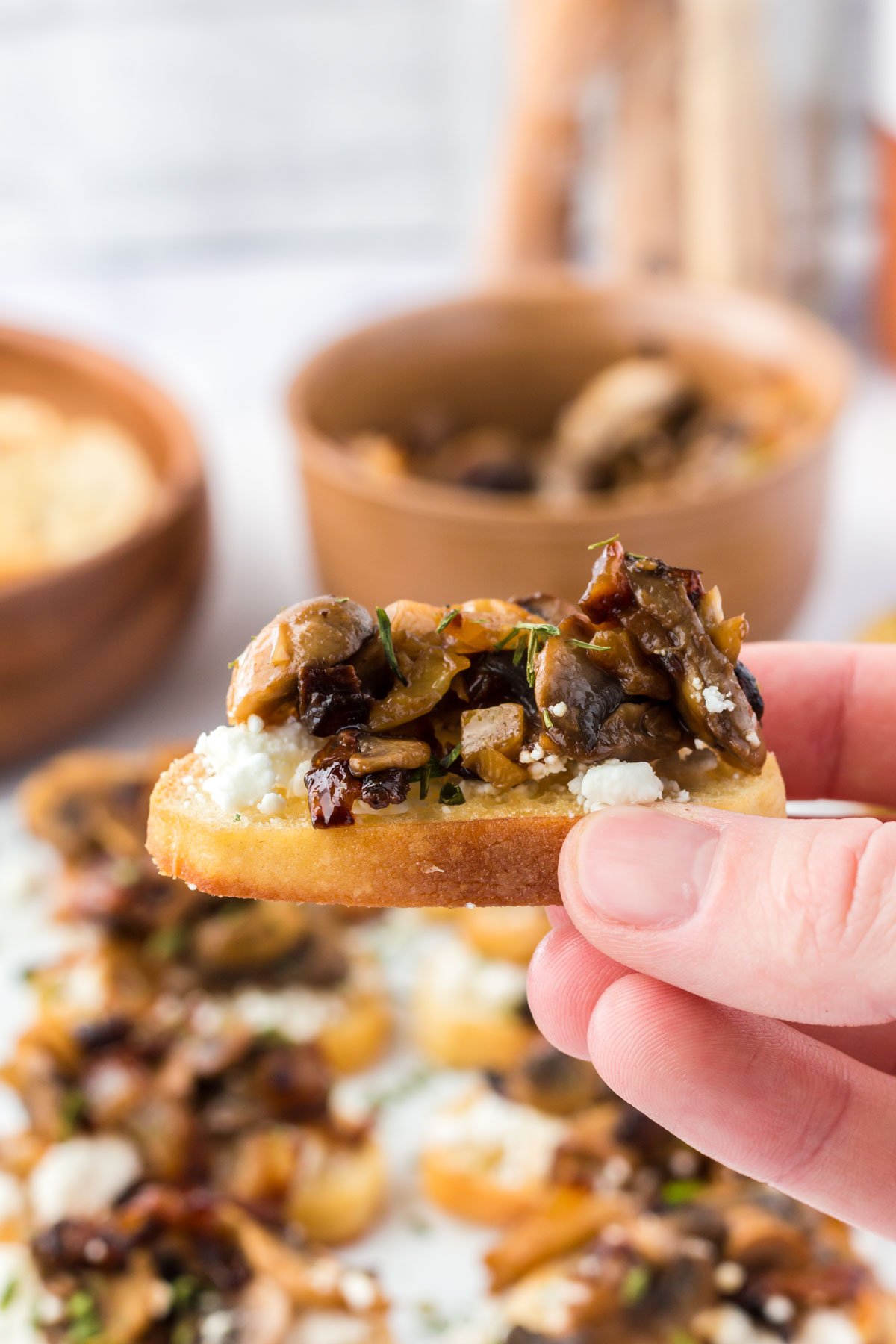 Variations
This mushroom and onion crostini recipe is pretty perfect as is, but there's always room for customization! Here are some of my favorite variations:
Vegan. Use plant-based butter and either omit the goat cheese or use a vegan substitute.
Add Herbs. Mushrooms pair beautifully with all kinds of herbs. I love parsley and dill the most, but thyme, chopped rosemary, or chopped sage are all delightful too.
Swap in a Different Cheese. Consider making my garlic whipped feta, or use a dusting of salty parmesan.
Try Different Toppings for Crostini. Not a mushroom fan? No worries! Consider topping them with marinated shrimp, mozzarella and tomatoes, pimento cheese, or anything else that strikes your fancy. If you come up with a genius crostini recipe, let me know in the comments below or tag me in your Instagram posts so I can cheer you on!
Storage
You can store the mushroom mixture in the fridge for up to 4 days. To reheat, give it a quick sauté in a non-stick pan until heated through.
Crostini can be made up to 3 days in advance and kept in an airtight container at room temperature.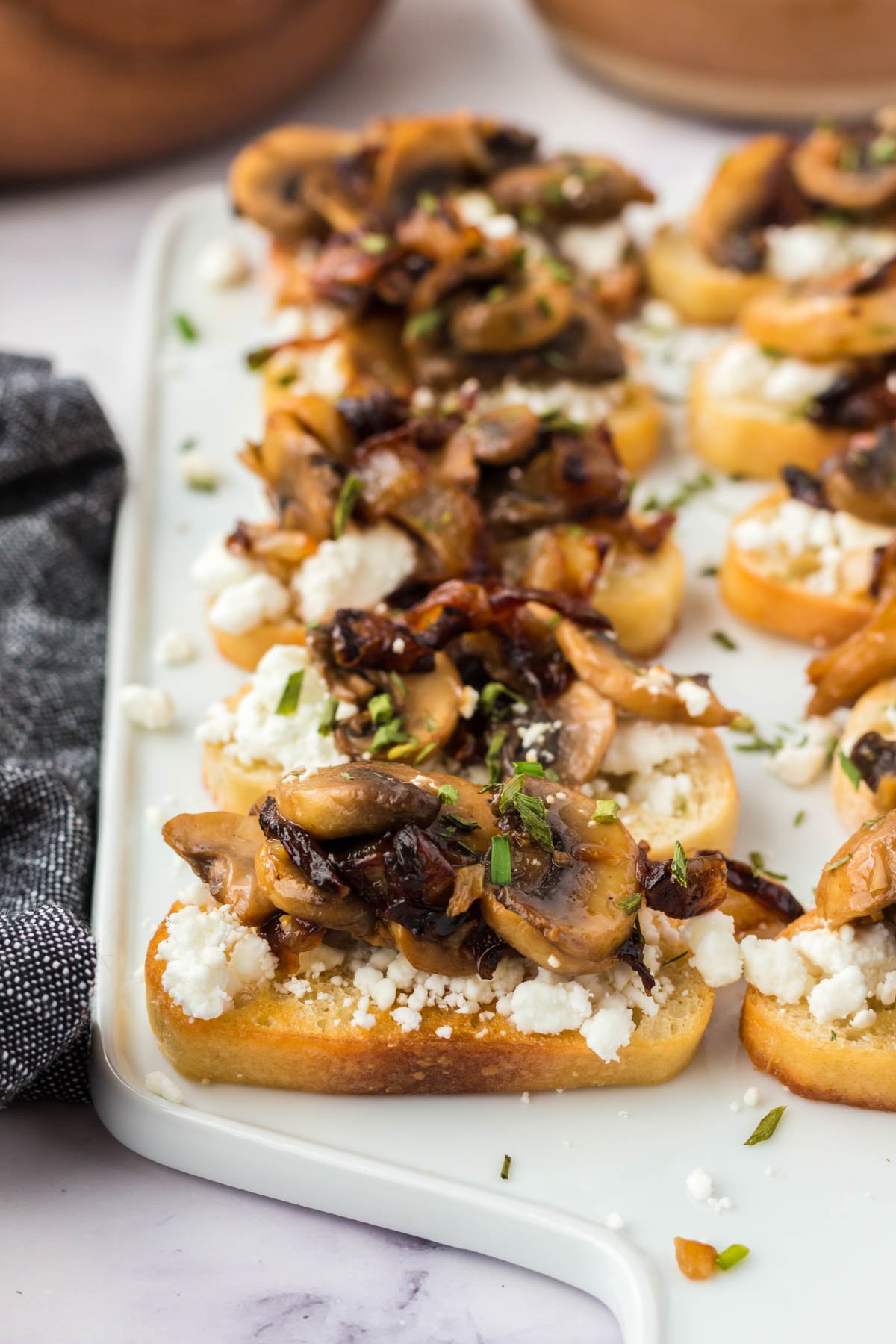 Expert Tips
Silica packets are your crispy food friend. If you're making the crostini ahead of time, let them cool completely and add them to a zip-top bag or an airtight container with a leftover silica packet or two from your last pair of shoes or that old bag of jerky. It'll help remove any latent moisture from the air and keep your toasts nice and crispy for a few extra days!
As the Beatles said, "Let it be." When caramelizing the onions, you only need to stir the mixture occasionally. It is important to give the onions time to caramelize.
More Elegant Appetizers
If you've made this recipe, please come back and leave us a star rating or a comment below.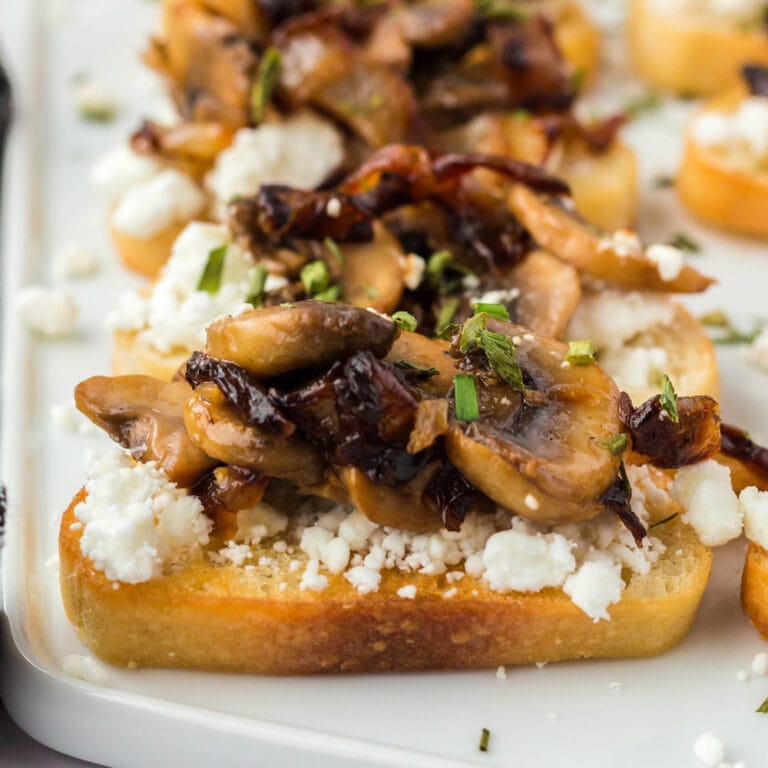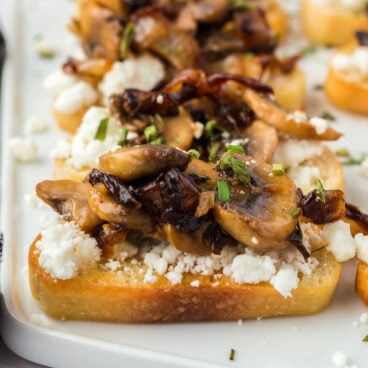 Mushroom Crostini
This Mushroom Crostini recipe is an easy appetizer made with goat cheese, caramelized onions, and mushrooms on crispy toasted bread.
Ingredients
1

medium white onion

sliced

2

tablespoons

butter

salted

7

tablespoons

olive oil

or ¼ cup plus 3 tablespoons

2

cloves

of garlic

minced

1

teaspoon

salt

8

ounces

mushrooms

sliced

1

baguette

sliced

½

cup

crumbled goat cheese

or soft goat cheese used as a spread.
Instructions
Combine the onion, butter, and ¼ cup of the olive oil in a pan. Cook the onions over medium heat until soft and caramelized.

Once the onions have caramelized, add the minced garlic, salt, and mushrooms. Continue cooking the mushrooms over medium heat until they are sauteed.

Once sauteed, set the mushroom mixture aside and brush olive oil over the baguette slices.

Bake the bread for five minutes at 400 degrees Fahrenheit.

Top the bread with a spoonful of crumbled goat cheese (or spread with soft goat cheese) and mushrooms.
Notes
You can store the mushroom mixture in the fridge for up to 4 days. To reheat, give it a quick sauté in a non-stick pan until heated through.
Crostini can be made up to 3 days in advance and kept in an airtight container at room temperature.
Nutrition
Calories:
353
kcal
Carbohydrates:
23
g
Protein:
9
g
Fat:
25
g
Saturated Fat:
8
g
Polyunsaturated Fat:
3
g
Monounsaturated Fat:
14
g
Trans Fat:
1
g
Cholesterol:
19
mg
Sodium:
748
mg
Potassium:
209
mg
Fiber:
2
g
Sugar:
4
g
Vitamin A:
312
IU
Vitamin C:
2
mg
Calcium:
79
mg
Iron:
2
mg