Pimento Cheese is a Southern classic for a reason! Made with simple ingredients like cream cheese (no mayo), shredded cheddar and pimento peppers, it's perhaps one of the most versatile dips ever!
This Pimento cheese is as lovely in your breakfast omelet as it is on your grilled cheese, cheeseburgers, or mac & cheese. Oh, and it makes a fantastic dip for your crackers and crudités, too! With just 6 ingredients and about 5 minutes of effort, this is an absolute "must save" recipe.
Table of Contents
Why We Love This Recipe
If you thought you liked the green-lidded Palmetto cheese, you're in for a real treat. My homemade pimento cheese spread is SO. MUCH. TASTIER. It's also a snap to make, so you really owe it to yourself to try. Here's why this is the best cheese dip around:
It Uses No Mayo. Pimiento cheese recipes often call for the addition of mayonnaise, but I prefer the smoother, creamier consistency of cream cheese.
You Only Need 6 Ingredients. With such a short grocery list, you can easily delegate the shopping to a family member. I don't know about you, but for big holidays like the 4th of July or Memorial Day, having a back-pocket recipe for emergencies is calming for me.
It's Crazy Versatile! Yes, this is an excellent dip for parties, but is also so much more. Use it to spruce up your weekend brunch by putting it in your eggs or grits. It's also great for lunch and dinner — read on for lots more suggestions on how to use pimento cheese below!
Ingredients for Pimento Cheese
With just 6 ingredients, you can make cheesy magic happen. Here's what you'll need:
Cream Cheese – For the best flavor and texture, I suggest using full-fat cream cheese. Neuchatel is a good enough substitute.
Sharp Cheddar Cheese – Reach for a block if you can; the melting power of pre-grated cheese is inferior to freshly grated.
Pimento Peppers – These can come either canned or jarred; either is fine! Just be sure to drain off any water or oil prior to adding them to your cheese spread. If you simply can't find any, reach for peeled roasted red bell peppers instead.
FUN FACT: The original Spanish spelling for this sweet red pepper is "pimiento." This history of pimento cheese has even more fun facts about this Southern staple!
Jalapeno Peppers – Fresh jalapeños bring a little zing and crunch to my pimento cheese. If you're sensitive to heat, carefully remove the seeds and white inner membranes before chopping.
Onion – Freshly minced onion is preferred, but you can get away with dried onion flakes in a pinch.
Garlic Salt – Or, make your own using a mix of garlic powder and salt.
How To Make Homemade Pimento Cheese
Be sure to check the recipe card below for full ingredients & instructions.
Making this iconic cheese dip couldn't be easier. Here's how it's done:
Whip the cream cheese in a medium-sized bowl for 1-2 minutes
Add in the remaining ingredients and whip the mixture again until smooth and homogenous.
Chill in the fridge for one hour.
Serve with crackers, veggies, etc., and enjoy!
FAQs
Is pimento cheese actually cheese?
The two main ingredients are cream cheese and cheddar, so yes! But technically speaking, I think it would be more proper to refer to it as a "cheese spread" or "cheese dip."
Why is pimento cheese so popular in the South?
While the original recipe for this cheese spread originated in New York, Georgia became the primary producer of pimento peppers in the country starting in the early 1900s. The peppers are still grown, processed, and canned primarily in Southern states.
Is pimento cheese spicy?
While there are fresh jalapenos in this particular recipe, I find that they are easily balanced out by the sheer amount of dairy in the spread. Dairy blocks capsaicin from binding with your taste receptors, which is why drinking a glass of milk is often recommended for when you've gotten in over your head with heat! That said, feel free to reduce the heat by removing the seeds and membranes of the peppers or reducing the total amount of jalapenos you use.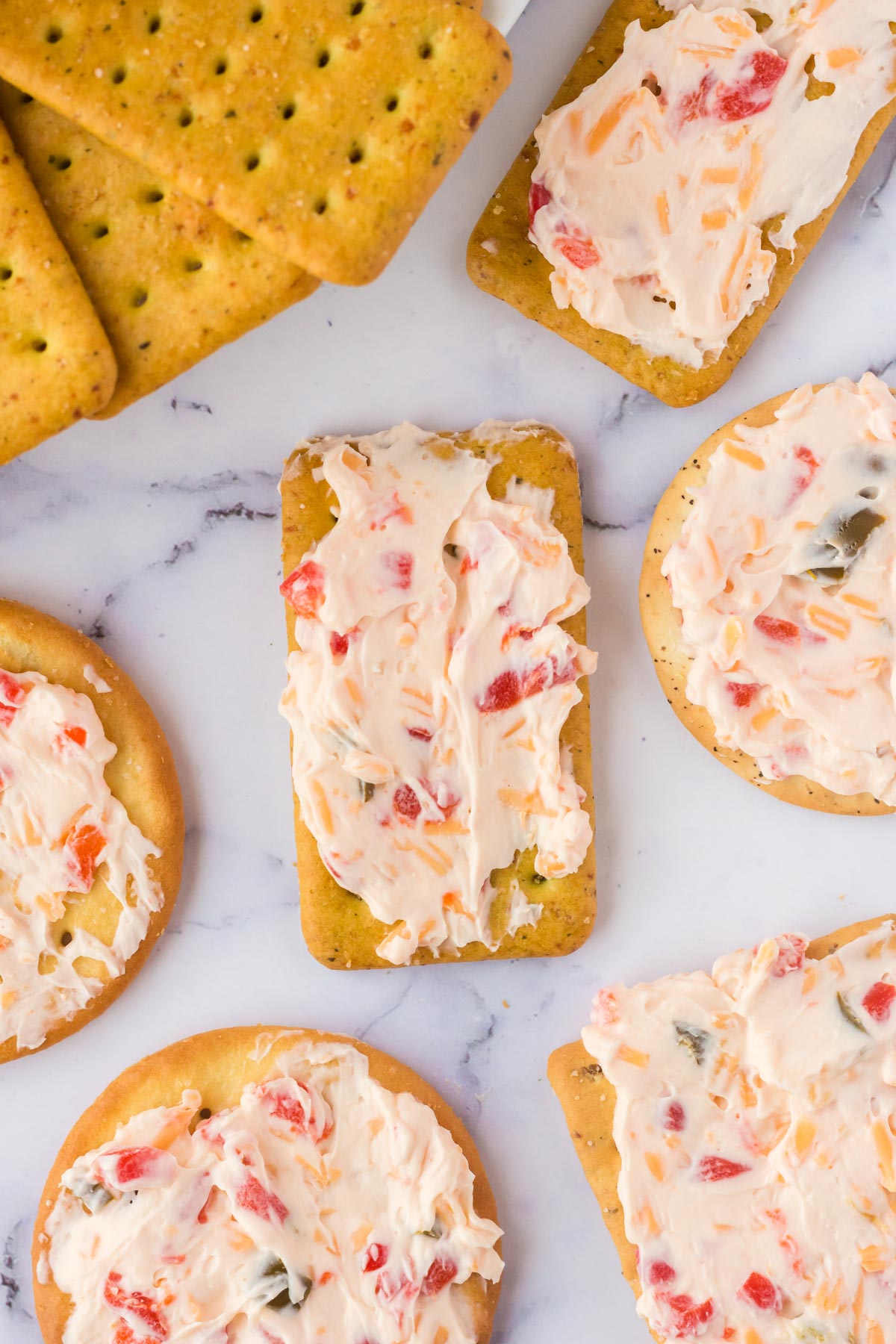 Serving Suggestions
As a spreadable cheese, this pimento dip has nearly countless uses in our house — not just for parties! Here are a few ideas to get you started:
As part of a snack lunch with multigrain crackers, veggie sticks, and sliced apples.
Melted onto burgers or in grilled cheese sandwiches.
Mixed into mac and cheese.
As a filling for omelets or baked potatoes.
Stirred into cheesy grits or savory oats.
Melted onto nachos.
Honestly, you'll find lots of ways to put this savory spread to good use. Promise.
Variations
I like my pimento cheese the old-fashioned way, but there's plenty of room for riffing. Here are a few ideas to get you started.
Make it spicy. Leave the spicy membranes from the jalapeños, or add more to taste. You can also amp up the heat by picking a spicier pepper like serrano or habanero.
Shape it into a cheese ball and roll it in nuts. YUM!
Mix up your cheeses. While traditional pimento cheese is made with sharp cheddar, there's no rule against using white cheddar, pepper jack, smoked gouda, or any other cheese of your liking!
Storing
It is best to store this cheese dip in an airtight container.
It'll keep in the fridge for up to two weeks.
I don't recommend storing pimento cheese in the freezer. It dramatically changes the consistency of the dip and it won't taste as fresh compared to when it is stored in the fridge.
For serving at an outdoor buffet or picnic, serve in a metal bowl nested inside of a slightly larger bowl filled with very icy water. (For food safety, keep it below 40°F.)
Expert Tips
Grate your own cheddar. While it might be tempting to reach for a bag of pre-grated cheese, I highly suggest you take a few extra minutes to grate your own. Not only does it give you the opportunity to choose the highest quality cheese, but the pre-grated kind just doesn't melt as well as cheese that comes from a block.
Control the heat… Remember that capsaicin (the compound that causes peppers to taste spicy) is primarily in the seeds and membranes of the fruit. If you don't want your pimento cheese to be too spicy, remove the seeds from your jalapeños before dicing them.
…and then wash your hands! Whenever you're working with a spicy ingredient like jalapeños, it is extremely important that you wash your hands before touching your face or using the restroom. Seriously, folks. What do you think they make pepper spray out of? Capsaicin!
More Cheesy Dips You'll Love
If you've made this recipe, please come back and leave us a star rating or a comment below.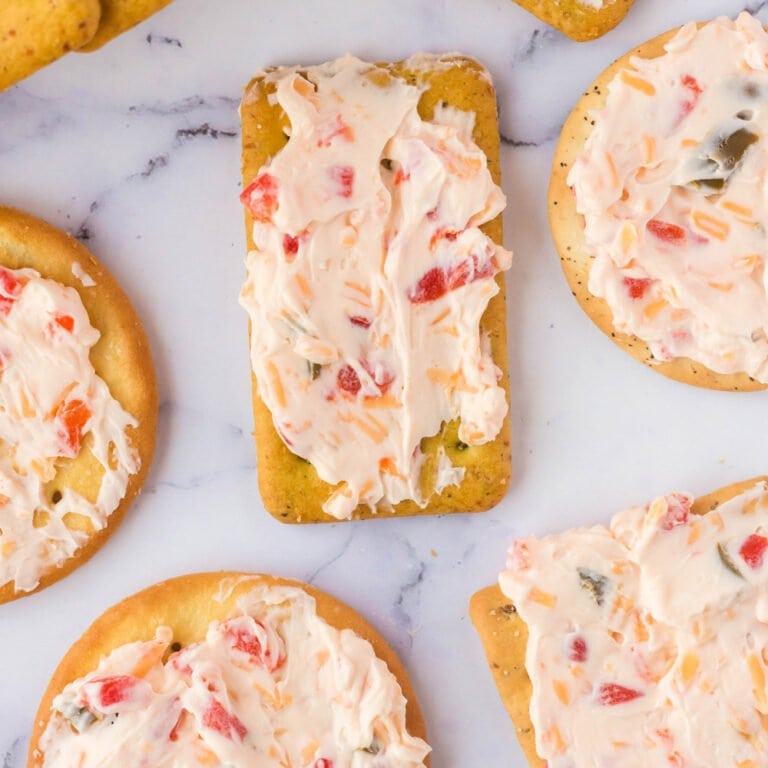 Pimento Cheese Dip
Pimento Cheese is made with simple ingredients like cream cheese (no mayo), cheddar and pimento peppers for a delicious spread or dip.
Ingredients
8

ounce

block of cream cheese

room temperature

1

cup

sharp cheddar cheese

4

ounce

can pimento peppers

3

tablespoons

diced jalapeno peppers

1

teaspoon

minced onion

1

teaspoon

garlic salt
Instructions
Whip the cream cheese in a medium sized bowl for 1-2 minutes

Add in the remaining ingredients and whip the mixture again until smooth and homogenous.

Chill in the fridge for one hour.

Serve with crackers, veggies, etc. and enjoy!
Notes
It is best to store this cheese dip in an airtight container.
It'll keep in the fridge for up to two weeks.
I don't recommend storing pimento cheese in the freezer. It dramatically changes the consistency of the dip and it won't taste as fresh compared to when it is stored in the fridge.
For serving at an outdoor buffet or picnic, serve in a metal bowl nested inside of a slightly larger bowl filled with very icy water. (For food safety, keep it below 40°F.)
Nutrition
Calories:
63
kcal
Carbohydrates:
2
g
Protein:
4
g
Fat:
5
g
Saturated Fat:
3
g
Polyunsaturated Fat:
1
g
Monounsaturated Fat:
1
g
Cholesterol:
14
mg
Sodium:
386
mg
Potassium:
53
mg
Fiber:
1
g
Sugar:
1
g
Vitamin A:
579
IU
Vitamin C:
21
mg
Calcium:
102
mg
Iron:
1
mg