Creamy, sweet, and tangy all at once, my Blueberry Goat Cheese appetizer will be the talk of the summer!
This simple and stunning cheese dip is a flavorful dupe for a Trader Joe's blueberry goat cheese log, but has a much prettier presentation. As a bonus, it takes just 7 ingredients and less than 20 minutes to make.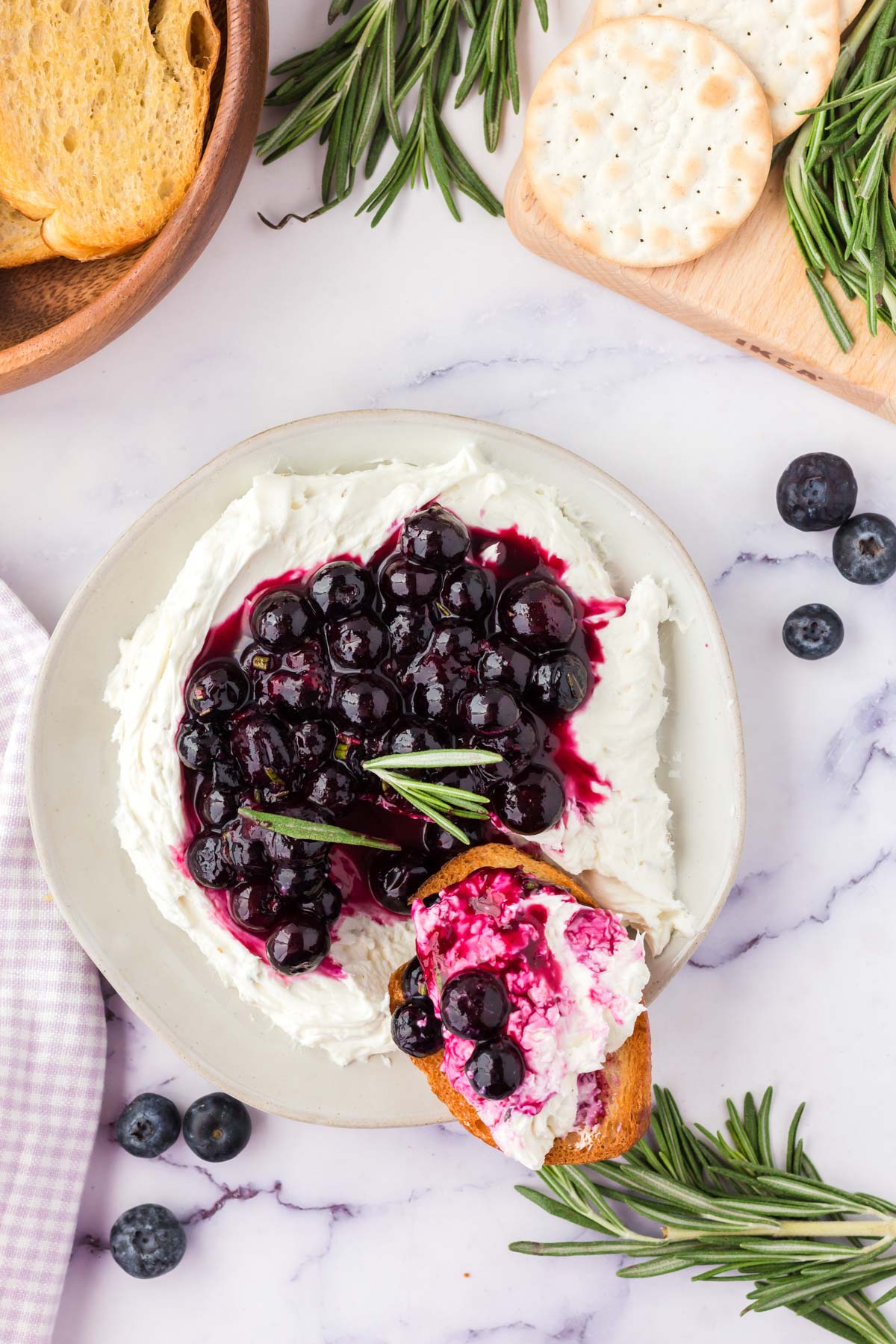 Table of Contents
Why We Love This Recipe
At first blush, "blueberry cheese" might seem like a strange concept. I can promise once you try this creamy goat cheese with blueberry vanilla compote you'll change your tune. Sweet, juicy summer berries and tangy fresh chevre make for an exceptional pair.
If that weren't enough to love, this flavored goat cheese recipe is:
Made With Just 7 Ingredients. A short shopping list is just one of many reasons to love this tasty cheese spread!
Quick & Easy. You'll spend less than 20 minutes of active time making this gorgeous blue and white appetizer, leaving you plenty of time to enjoy the party.
Crowd-Pleasing. Fruit and cheese is always a winning combo, but this blueberry goat cheese even wins the hearts of little ones!
Versatile. Feel free to swap in your favorite berry or fruit to make this delectable cheese dip work for you all year long. Read on for more ideas below!
For another sweet fruit and goat cheese pairing, try my Pear and Goat Cheese Crostini!
Ingredients For Blueberry Goat Cheese
You need just 7 ingredients to make this blueberry vanilla goat cheese! Here's what to grab:
Blueberries – If you're making this in the summertime, take advantage of gorgeous seasonal fruit at your local farmer's market. Otherwise, feel free to swap in frozen blueberries instead.
Honey – Local honey tastes better than mass-produced, and it also helps to support local pollinators.
Lemon Juice & Zest – Doubling up on lemon gives this sweet and tangy goat cheese dip an irresistibly bright flavor that'll have you coming back for more.
Fresh Rosemary – If you only have dried rosemary on hand, cut back by half. Dried herbs are generally more potent than fresh.
Vanilla Extract – I love the added depth and complexity vanilla adds to this easy appetizer recipe.
Soft Goat Cheese – You're looking for fresh goat cheese (also known as chevre) that comes in a log. Avoid purchasing the kind that comes pre-crumbled, as it is treated with an anti-caking agent that prevents it from mixing together properly.
Cream Cheese – I prefer full-fat cream cheese, but you can swap in a lower fat version or Neufchatel cheese instead. Just avoid using non-fat at all costs!
How To Make Blueberry Goat Cheese
Be sure to check the recipe card below for full ingredients & instructions.
Making a prettier copycat version of Trader Joe's blueberry goat cheese is simpler than you might think. Here's how it's done:
Make Blueberry Compote: Heat blueberries, honey, lemon juice, lemon zest, and salt in a small saucepan and stir frequently until the blueberries begin to soften and burst. Remove from heat, stir in vanilla and set aside to cool.
Whip Cheeses: Beat goat cheese and cream cheese together with a hand mixer until completely smooth. Add some honey and chopped rosemary.
Plate Cheese Dip: Spread the cheese mixture onto a shallow plate or dish, top with blueberry compote and a sprig of fresh rosemary.
Chill & Enjoy. Refrigerate for at least an hour then serve with your favorite crackers.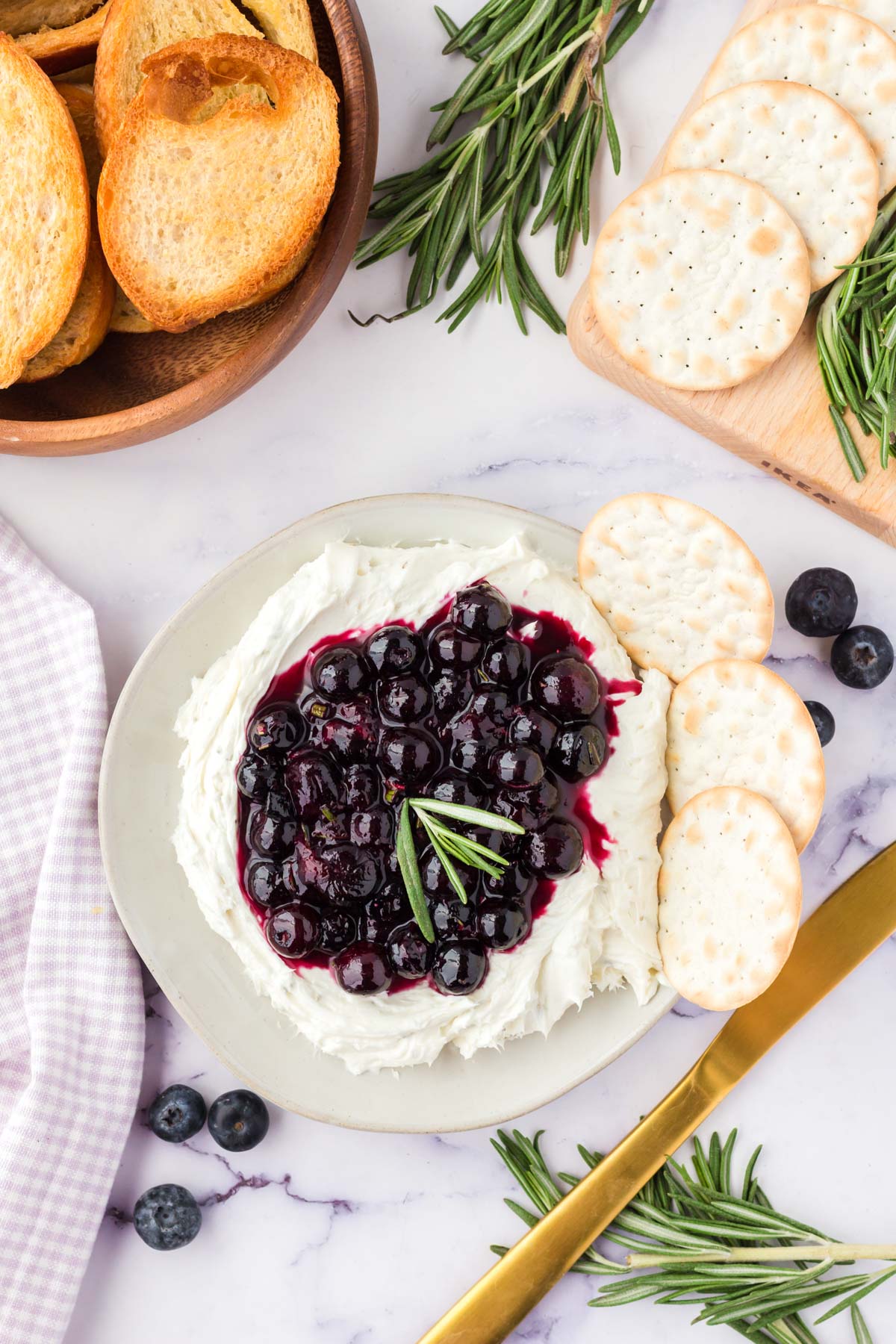 FAQs
Can you freeze goat cheese?
You sure can! So long as it is well-wrapped, goat cheese (with or without the blueberries) can be frozen for up to 6 months without any noticeable change to taste or texture.
Does goat cheese melt?
Yep, and it does so beautifully!
What is another name for goat cheese?
Young or fresh goat cheese is often referred to by the french term chevre, which translates to "female goat."
Can I use frozen blueberries?
Absolutely! They'll oftentimes be cheaper than fresh, and are generally tastier than fresh if you want to eat them out of season.
How To Serve
Use mild crackers like crostini, Ritz, and water crackers for serving so the crackers don't compete with the dip.
Make sure that the cheese is visible beneath the blueberries by leaving about a 1-inch border. This will make the dip look really pretty on the plate and when it is spread on the crackers.
This blueberries and goat cheese spread is a welcome addition to any charcuterie plate or cheese board. Just be sure to keep it corralled in a smaller bowl or plate to make sure the blueberry compote doesn't make a mess.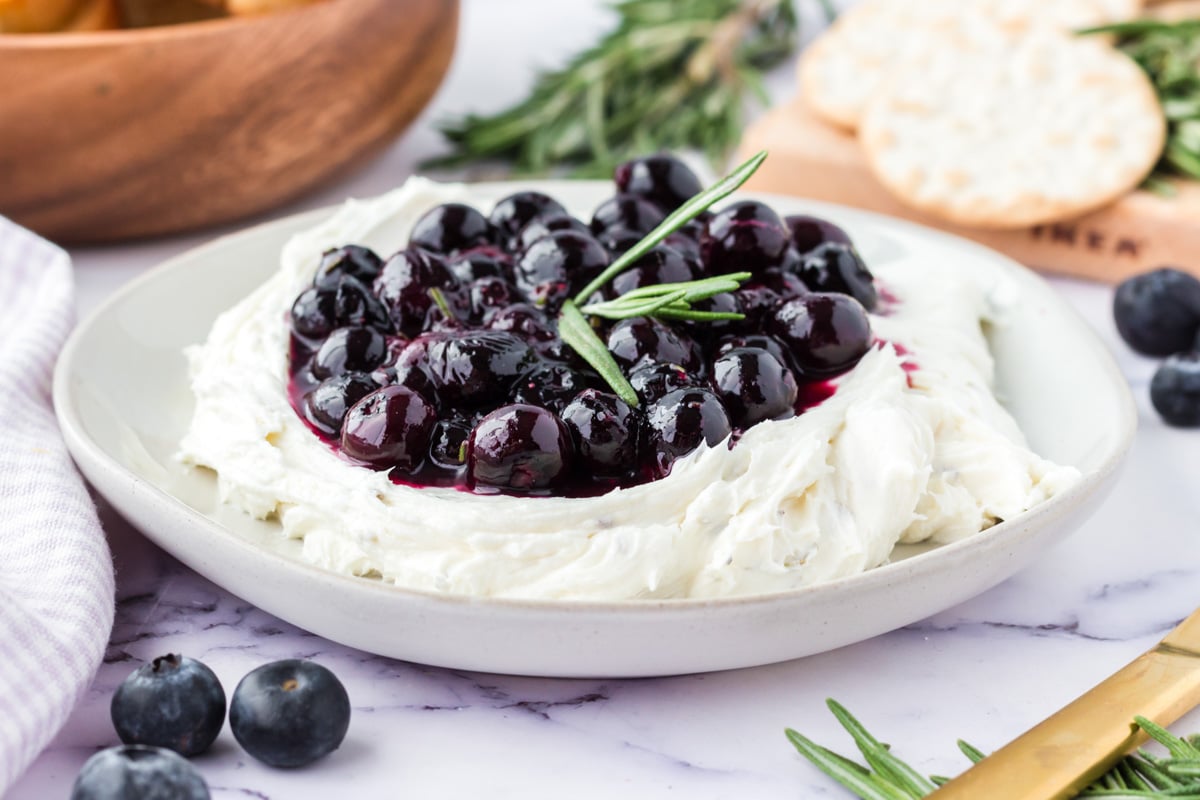 Variations
While I love this blueberry cheese spread just the way it is, there's tons of room for customization. Here are some of my favorite variations:
Cranberry & Cinnamon – Swap cranberries for blueberries and orange for lemon in the autumn and add a 3-inch piece of cinnamon stick to the compote as it cooks. This would make a killer Thanksgiving day app!
Blueberry Lavender – Add a teaspoon of food-grade lavender flowers to the compote for a fun floral twist.
Strawberry or Raspberry Almond – Chop strawberries into roughly blueberry-sized pieces and use almond extract in place of vanilla. Garnish with a sprinkling of toasted sliced almonds before serving.
Did you come up with a genius way to flavor your goat cheese? Let me know in the comments below or tag me in your social posts so I can cheer you on!
Storage
Blueberry compote and whipped goat cheese can be made up to a week in advance. Store separately in an airtight container in the fridge.
Once the spread is assembled, it should be consumed within 2 days for the best appearance. Any leftovers will keep for up to 5 days.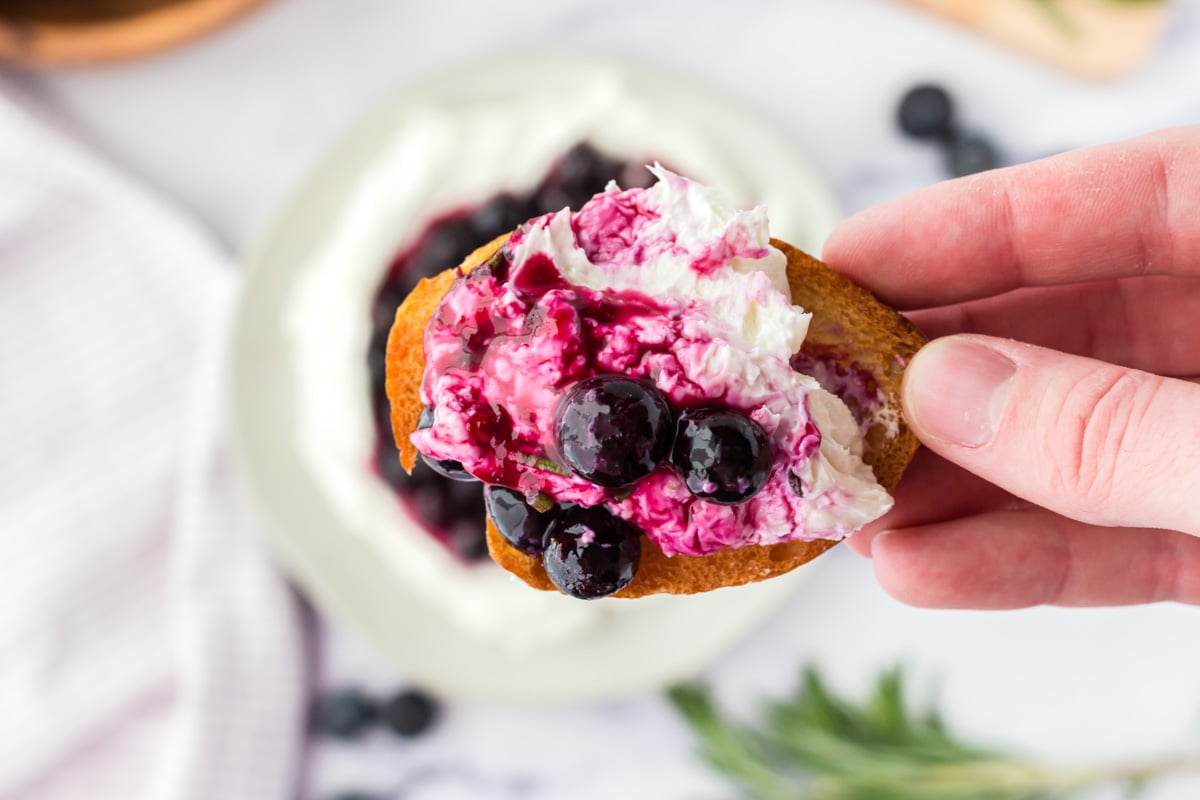 Expert Tips
Making this blueberry vanilla-flavored goat cheese is quite simple, but I do have a few tricks up my sleeve:
Only use the yellow part of the zest. Citrus zest is chock-full of essential oils, so it can impart a ton of flavor. That said, the white pith of citrus is often very bitter. Make sure to just use the top, brightly colored layer of zest for the best flavor.
Plate it properly. This recipe makes a relatively small amount, so it will look the best on a salad plate or a very small platter. If you want more of an abundant look, made a double batch for serving in a pie platter.
Make a sunburst pattern with your crackers by plating the smaller plate of flavored goat cheese in the center of a larger serving platter, then fanning the crackers around in an artistic fashion.
More Cheesy Recipes
If you've made this recipe, please come back and leave us a star rating or a comment below.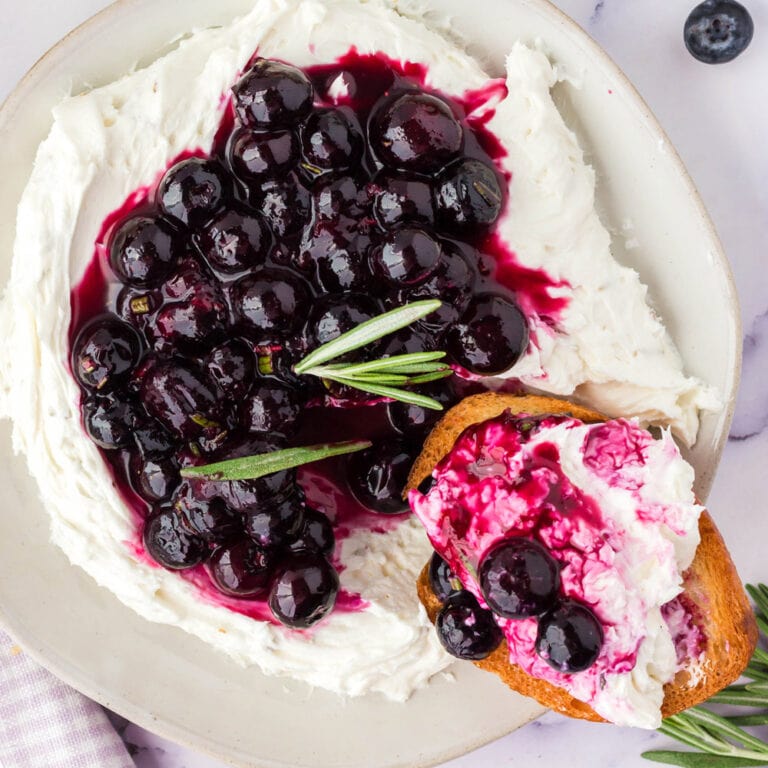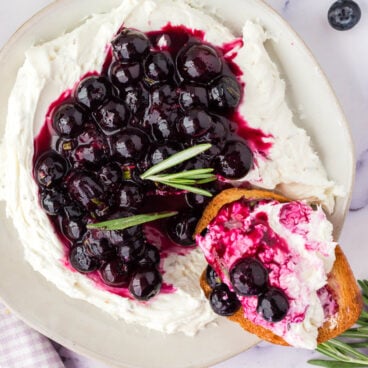 Blueberry Goat Cheese Spread
Creamy, sweet, and tangy, my Blueberry Goat Cheese appetizer will be the talk of the summer! Made with fresh blueberries and creamy chevre.
Total Time
1

hour
15

minutes
Ingredients
1

cup

blueberries

2

tablespoon

honey

divided

1

tablespoon

lemon juice

1

teaspoon

lemon zest

1-2

teaspoons

fresh chopped rosemary leaves

½

teaspoon

vanilla extract

Pinch

of salt

6

ounces

soft goat cheese

chevre-not crumbled

2

ounces

cream cheese
Instructions
Heat a small saucepan over medium heat. Add blueberries, honey, lemon juice, lemon zest and salt. Stir frequently until blueberries begin to burst; about 5-7 minutes.

Remove from heat and stir in vanilla extract. Set aside, uncovered, to cool completely.

Place goat cheese and cream cheese in a medium mixing bowl and beat with a hand mixer until well combined and smooth. Stir in 1 tablespoon of honey and the chopped rosemary.

Spread the goat cheese mixture into a shallow dish or plate, then top with the blueberries, leaving a 1-inch so the blueberries don't drip off the sides. Drizzle with honey if desired and top with a sprig or two of fresh rosemary.

Refrigerate for at least 1 hour or up to 2 days. Serve with your favorite crackers.
Nutrition
Calories:
217
kcal
Carbohydrates:
15
g
Protein:
9
g
Fat:
14
g
Saturated Fat:
9
g
Polyunsaturated Fat:
0.5
g
Monounsaturated Fat:
3
g
Cholesterol:
34
mg
Sodium:
202
mg
Potassium:
69
mg
Fiber:
1
g
Sugar:
13
g
Vitamin A:
651
IU
Vitamin C:
6
mg
Calcium:
77
mg
Iron:
1
mg