Italian Meatball Sliders are perfect for any event, like game day parties or just a casual backyard get together. Tender, cheese filled meatballs stuffed into slider buns and topped with more cheese and marinara sauce – these meatball sliders are the ultimate hand held snack!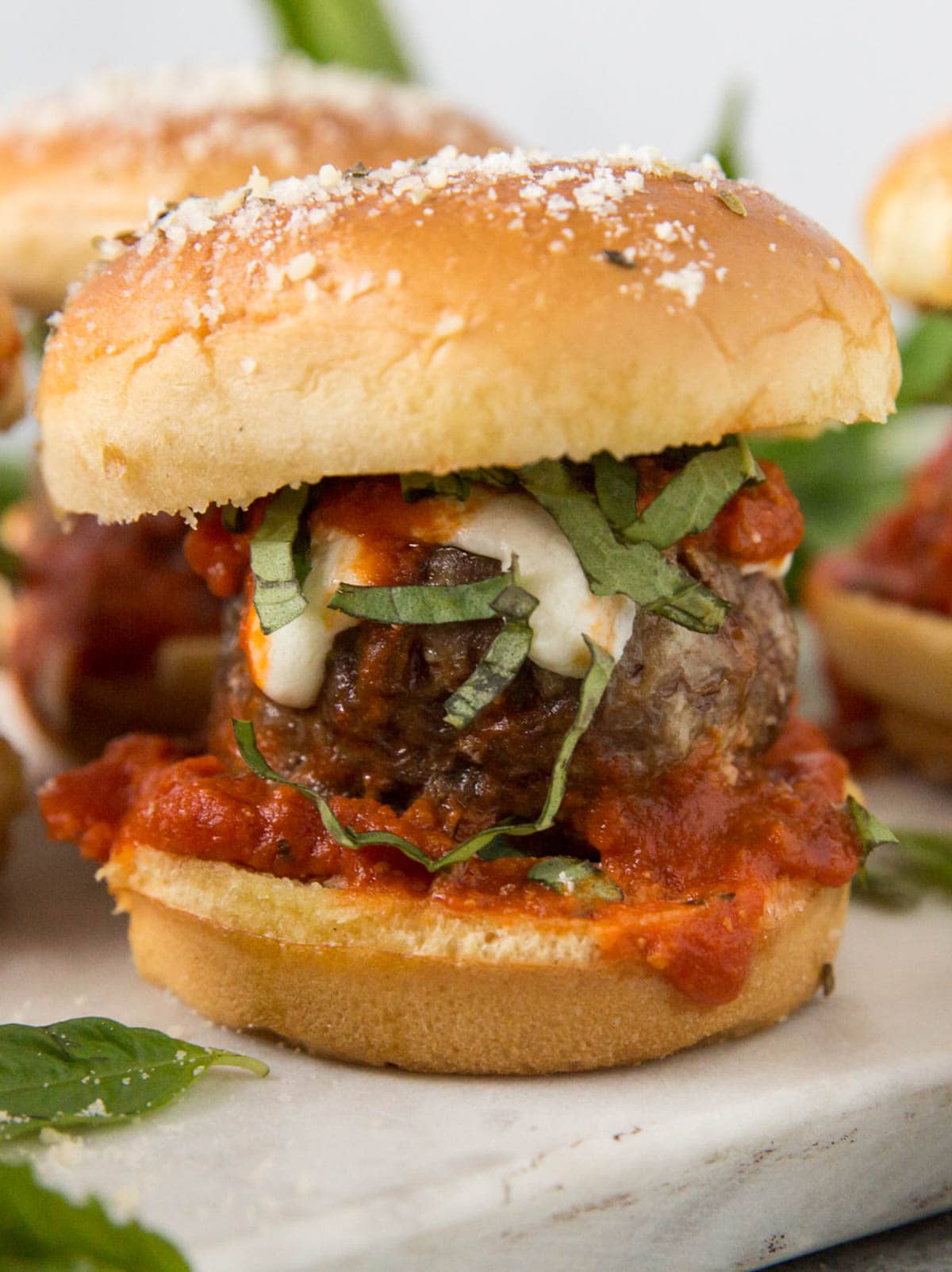 Planning a party for the holidays or for the big game? You need to put these Italian Meatball Sliders on the menu! They are a nice hearty snack that's filling and delicious. Plus they are great when you're making a meal out of appetizers.
The meatballs would be wonderful on a meatball sub, too, if you're looking for something more meal sized. Want more slider options? Try our BBQ Chicken Sliders, too!
Table of Contents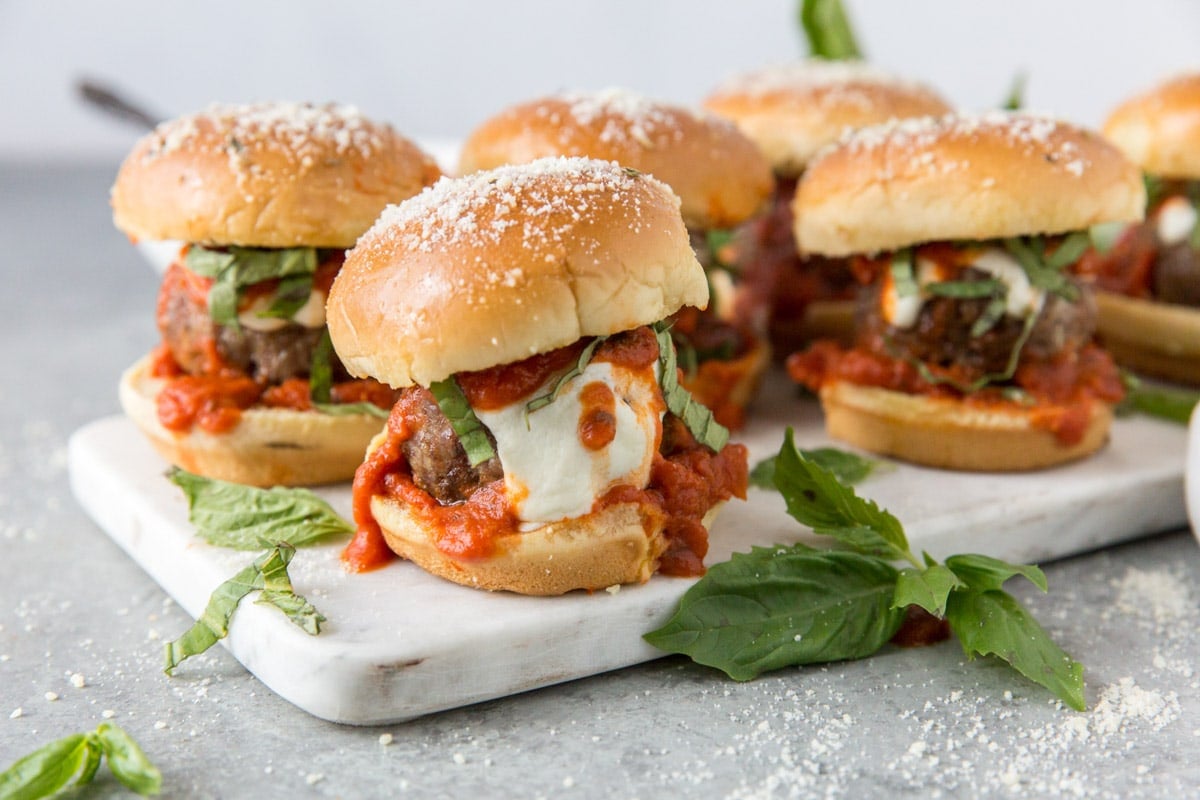 Meatball Sliders Ingredients
Ground beef – This is the base for your meatballs, so you want a good quality with a little bit of fat. 85/15 is a good choice.
Onions – You only need two tablespoons to add some flavor. Make sure you saute them first. Raw onions won't soften enough as they bake.
M

ozzarella cheese

– You need Mozzarella twice, and in two different forms. Grab a block of Mozzarella (not string cheese) and cut some into small squares to add to your meatballs. Grate the rest for adding on top.
Breadcrumbs – I prefer working with Panko because they don't get as soggy.
Seasoning – Garlic salt and oregano.
1 large egg – Whisk lightly before adding.
Marinara sauce – A jar of marinara sauce is fine, or any kind of tomato based pasta sauce if that's what you have on hand. You could also very easily make Marinara Sauce from scratch.
Slider buns – You can find slider buns in packages of 8-12 in the bread section. Hawaiian rolls work too.
Fresh parsley or basil – This is optional, but adds some color for a nice garnish.
How to Make Meatball Sliders
This meatballs sliders recipe is super simple. Make and bake the meatballs, then assemble the sliders. I have two options for assembly – a basic (yet still completely delicious) version and a deluxe version.
Form the meatballs. You want to be gentle with the ground beef because packing it together can create tough meatballs. Mix the ingredients together in a large bowl using a wooden spoon or clean hands. Evenly portion the meatballs and arrange them on a baking sheet.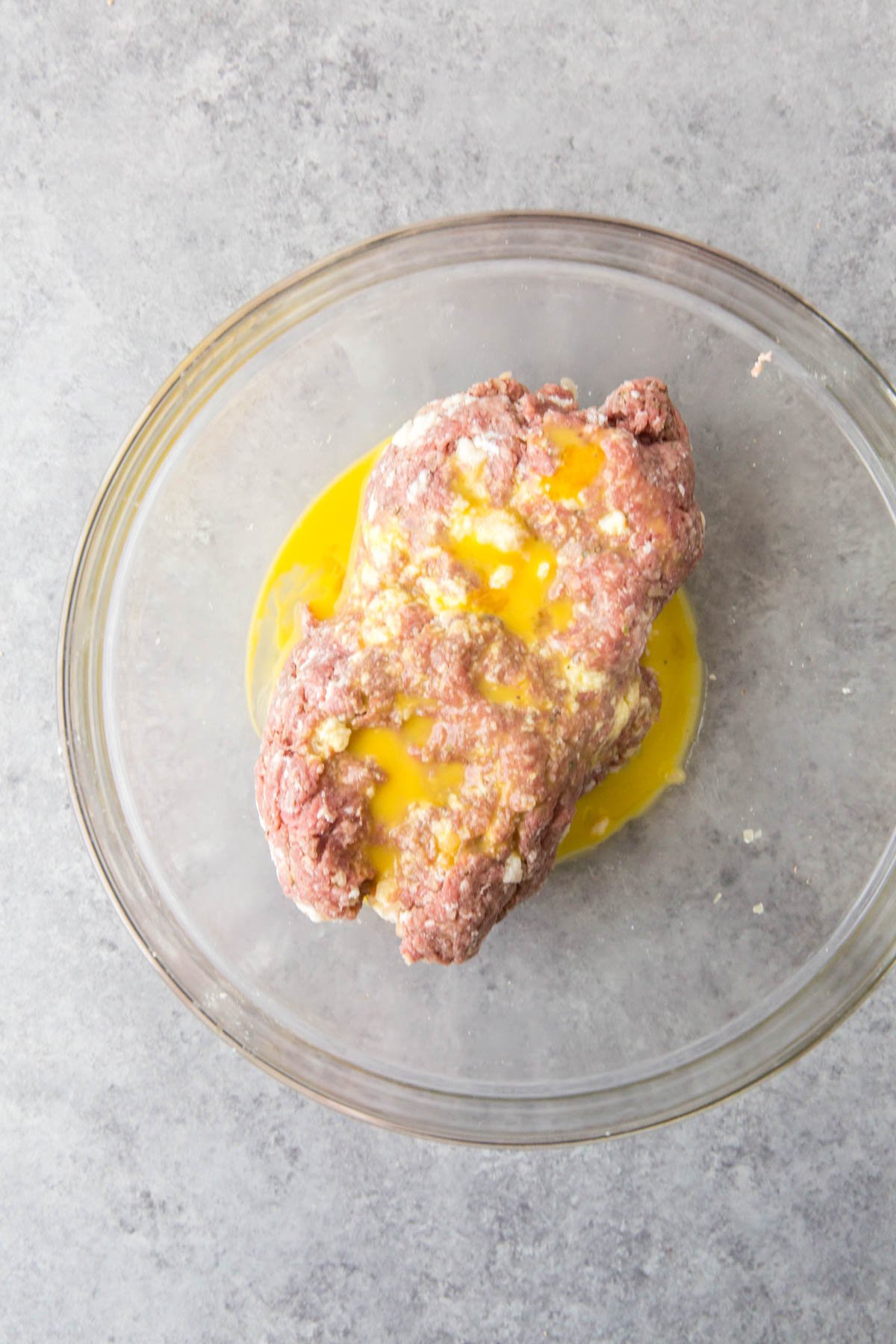 Bake the meatballs. Bake them for about 15 minutes at 350°F. Sprinkle cheese on top and bake for a few more minutes so it can melt. While the meatballs are baking, heat the sauce over medium heat.
Heat the slider buns. Wrap the buns in foil and heat them in the oven while the meatballs are cooking.
Assembly. Split open a slider bun and place a meatball on the bottom half. Top with a little bit of warm marinara sauce and chopped fresh basil leaves and replace the top bun. Sprinkle some grated parmesan cheese and dried basil on top if desired.
For the deluxe version: Arrange the bottoms of the rolls close together (touching) in a baking dish or pan. Brush with melted garlic butter and lightly toast under the broiler. Remove from the oven and top with a meatball, Mozzarella, and sauce. Broil again just long enough to melt. Replace the tops of the rolls and brush with melted butter, sprinkle on grated Parmesan cheese and dried parsley or basil. Broil again for a couple of minutes or until tops are toasted.
FAQs
Can I use frozen meatballs?
You can. But they tend to be much smaller and don't have as much flavor as making them from scratch. To make your sliders this way, just heat them with the marinara sauce.
Can you make these ahead of time?
You can prepare the meatballs ahead of time, and even bake them. Cool completely, then cover and refrigerate for up to 24 hours. Place them on a foil lined baking sheet, sprinkle on the shredded cheese, and heat for 5-10 minutes at 350℉ or until meatballs are hot and cheese is melted. Continue with assembly.

Or, you can prepare the meatballs, store them on the baking tray (covered tightly) and bake them the next day.
Can you double the recipe?
Absolutely! This recipe is easily adjustable for however many meatballs you need. Double or triple the recipe using the adjustable slider in the recipe card below. Keep in mind you may have to bake the meatballs in batches.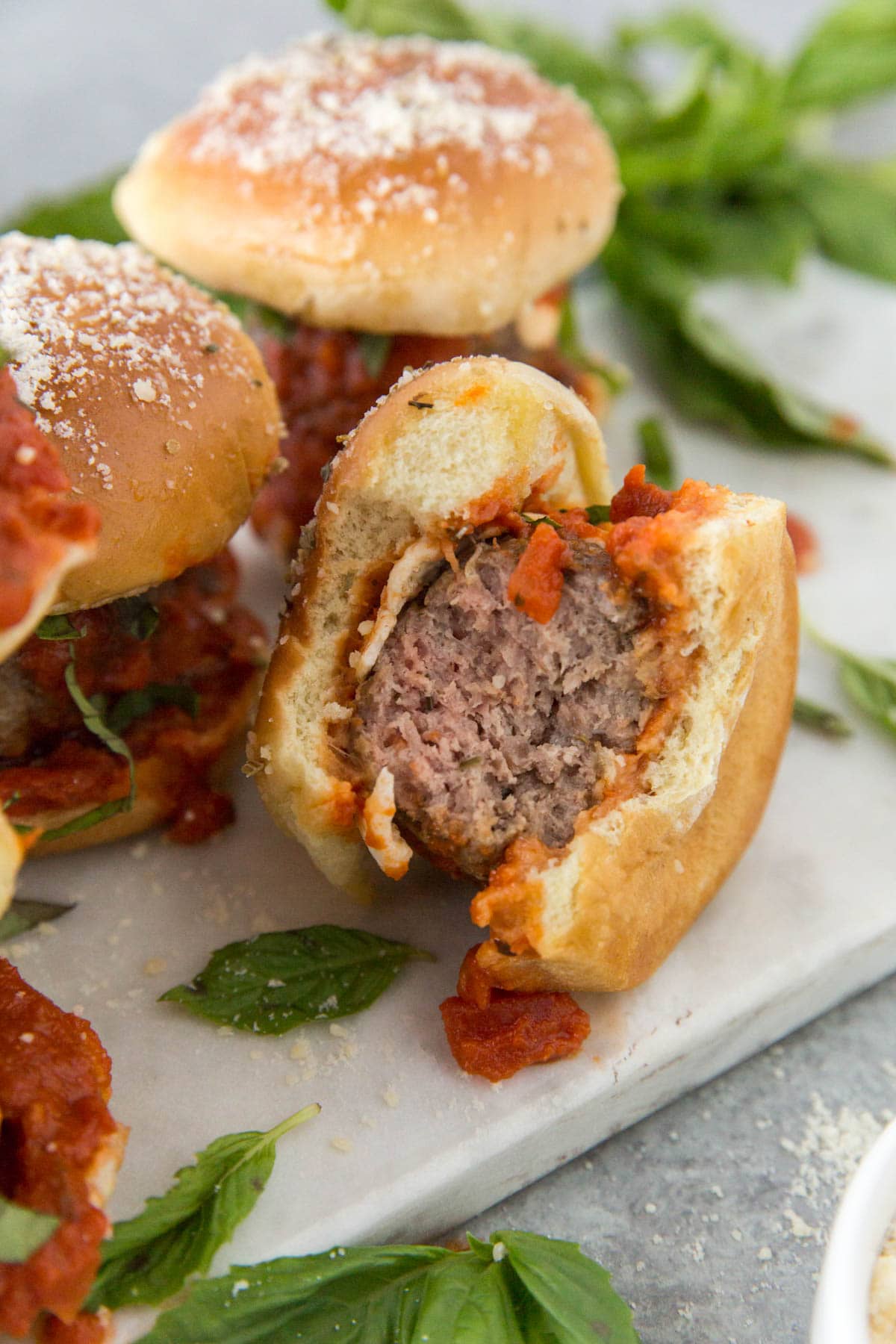 Variations
Spicy – Add red pepper flakes to the marinara as it simmers to add some heat. You can also add red pepper flakes to the meatball mixture.
Deluxe – Use a mixture of Italian sausage and ground beef and add a couple of minced garlic cloves. Brush the tops of the rolls with melted butter and sprinkle on fresh grated Parmesan, a pinch of garlic salt, and fresh chopped parsley. Broil for a minute or two to toast.
Kid Friendly – Use your favorite spaghetti sauce instead of marinara. It tends to be more smooth and kids don't usually like chunkier sauces.
Brush the insides of the rolls with melted garlic butter and toast lightly.
Make them extra fancy by adding a party toothpick and a small leaf of fresh basil to the top.
Serving Suggestions
If you're serving these sliders as an appetizer, make it an Italian theme! Serve with some garlic breadsticks, caesar salad, and an antipasto platter. Caprese Skewers would make a great addition to the spread.
Storage and Reheating
Storage: Store meatballs in an airtight container in the fridge. Assembled sliders can be stored and reheated, but the bread will get a little soggy from the sauce.
Freezing: Leftover meatballs are great for freezing to have on hand anytime you need them. Cool completely, then flash fresh by arranging them on a parchment paper lined baking sheet and popping it into the freezer for about an hour. Once they are solid, you can toss them into a resealable freezer bag and freeze for up to 6 months.
Reheating: Fresh or frozen, you can just toss the meatballs into a bubbling saucepan of marinara and they will heat up and stay moist. Or you can microwave them.
Expert Tips
Use an ice cream scoop for perfectly portioned meatballs.
Or, for evenly sized meatballs, weigh each piece on a kitchen scale. Mine were about 2.5 ounces.
Don't crowd the meatballs on the baking sheet. Leave at least an inch all around each one to promote even cooking.
For best results, preheat your oven.
Serve extra marinara sauce on the side for dipping.
Use small slices of mozzarella instead of shredded for the topping if you want easier application and more coverage.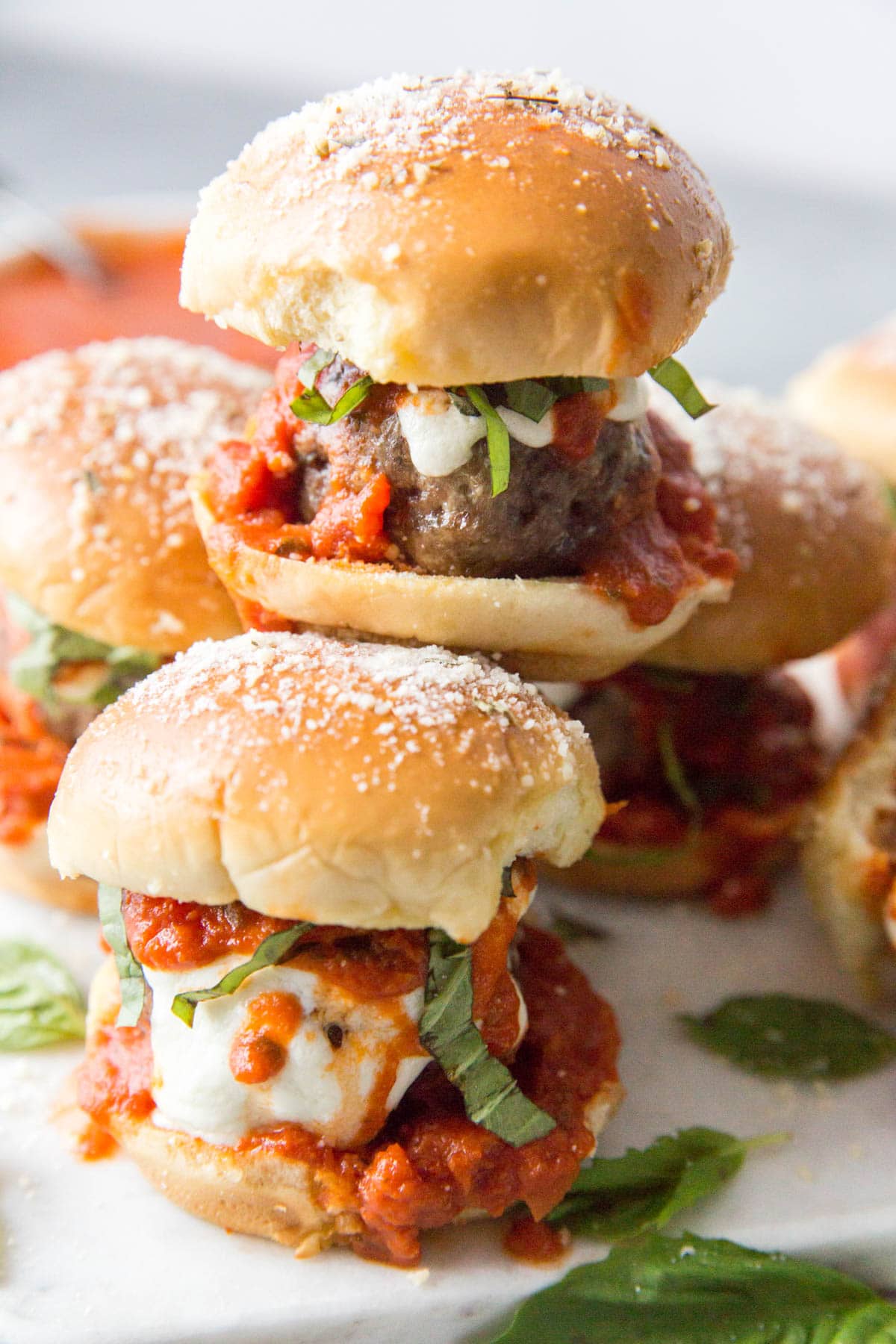 More Delicious Easy Appetizer Recipes
If you've made this recipe, please come back and leave us a star rating or a comment below.
Italian Meatball Sliders
Italian Meatball Sliders are perfect for any event, from game day parties to casual get togethers. They are the ultimate hand held snack!
Ingredients
2

pounds

lean ground beef

2

tablespoons

finely chopped white onion

4

ounces

mozzarella cheese

cut to small dice (1/4-inch)

2/3

cup

Panko breadcrumbs

1

teaspoon

garlic salt

1

tablespoon

dried oregano

1

large egg

beaten

3

ounces

freshly shredded mozzarella cheese

see notes about pre-shredded

24

ounces

jar marinara sauce

16

slider buns

Fresh parsley or basil

optional, for garnish
Instructions
Heat a small skillet over medium-high heat and add a teaspoon of olive oil. Add chopped onion and saute until soft and starting to brown; about 2-3 minutes. Transfer to a small plate or bowl to cool for several minutes.

Preheat oven to 350°F. Saute minced onions in olive oil. Line a large rimmed baking sheet with foil and set aside.

Place slider buns in a foil packet, completely sealed and then set aside.

In a large bowl place ground beef, cooled sauteed onions, 4 ounces diced cheese squares, panko breadcrumbs, garlic salt, and oregano.

Using a wooden spoon or your hands, mix all ingredients until well blended.

Add beaten egg to ground beef mixture and mix until egg is incorporated evenly.

Using a large scoop (ice cream scoop size) form gently into round balls. Lightly pack the meatballs – you don't want them tightly compacted or you risk them being tough. Repeat with all of the meat mixture.

Place each meatball 1-inch apart on the prepared baking sheet. Place the pan in the oven and bake for 15 minutes.

While the meatballs are baking, heat the marinara sauce in a small saucepan.

Remove the tray of meatballs from the oven and place the foil packet of buns in the oven to warm.

Evenly divide shredded mozzarella over each baked meatball. Place the sheet pan back in the oven and bake for approximately 5 more minutes until the cheese is melted and slightly golden.

Once cheese is melted the meatballs are done. Remove meatballs and foil packet of buns from the oven.

Build a slider with one cheesy meatball on each bun. Spoon 1-2 tablespoons of sauce over the top and serve immediately. Sprinkle with fresh minced parsley or basil.
Notes
I suggest you buy your mozzarella and shred it yourself. Most of the pre-shredded store-bought cheeses add ingredients to keep them from sticking together and preservatives to have them last longer. I find that the cheese doesn't melt as well when you use these pre-shredded options. An added bonus… you get more cheese for the price if you shred it yourself. If you make the meatballs a day before baking them, remove the meatballs from the refrigerator 60 minutes before baking them to take the chill off before baking.
(If you have one, use a scale to weigh them out so that they are the same size for even cooking. I weigh them out to 2.5 ounces each.)
Nutrition
Calories:
228
kcal
Carbohydrates:
21
g
Protein:
19
g
Fat:
7
g
Saturated Fat:
3
g
Polyunsaturated Fat:
1
g
Monounsaturated Fat:
2
g
Trans Fat:
1
g
Cholesterol:
55
mg
Sodium:
506
mg
Potassium:
361
mg
Fiber:
2
g
Sugar:
5
g
Vitamin A:
288
IU
Vitamin C:
3
mg
Calcium:
109
mg
Iron:
3
mg