Take yourself on a little stay-cation with this Gulf Shores-style Smoked Tuna Dip. Made with just 10 minutes of prep, this smoky, creamy, deliciously addictive fish dip is perfect for serving with crackers or crostini whenever the seafood craving strikes!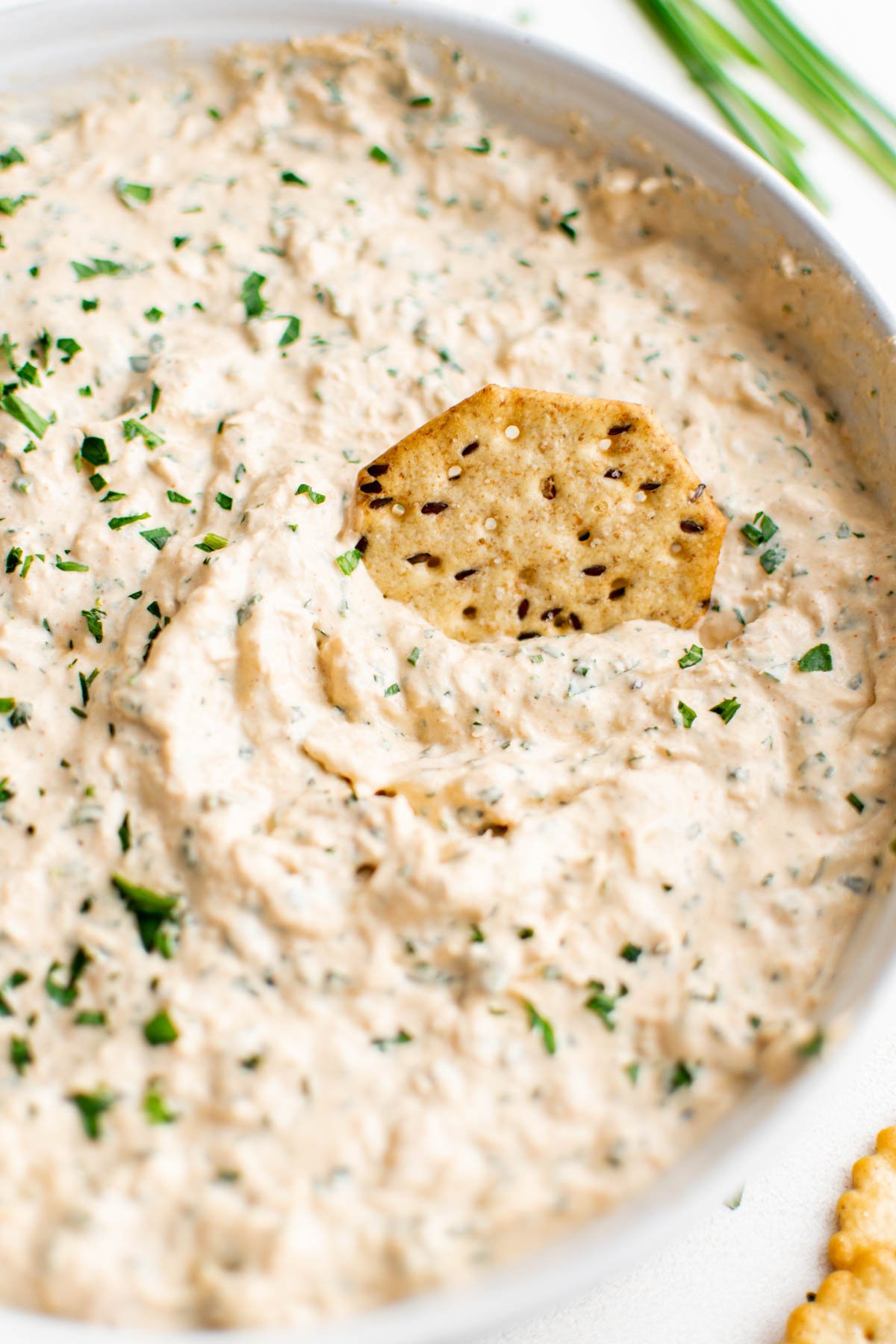 Table of Contents
Why We Love This Recipe
I don't know about you, but I'm a total sucker for smoked fish. Trout or oysters, mackerel or salmon, salty, smoky, flaky fish is an utter delight. When it's combined with a decadently creamy mix of mayo, sour cream, and cream cheese and a handful of seasonings? That just might be one of my love languages.
Aside from being lick-the-bowl delicious, this smoked tuna dip recipe is:
Quick & Easy. All you need is 10 minutes to whip up a batch!
Budget-Friendly. I use affordable canned tuna to make this tasty dip easy on your wallet.
Meal-Prep Friendly. Once made, this delightful dip will keep in the fridge for up to 5 days.
Ingredients For Smoked Tuna Dip
You don't need anything fancy to make this ridiculously simple smoked fish dip recipe. Here's your shopping list:
Cream Cheese – Feel free to use lighter Neufchatel cheese if you prefer.
Mayonnaise – Use a high-quality mayo like Hellman's/Best Foods or homemade aioli.
Sour Cream – Full-fat always tastes the best. You can also swap in full-fat Greek yogurt if you'd like to make it a little healthier.
Canned Albacore Tuna – I prefer solid canned tuna to chunk light varieties, but either will work. Aim for sustainably caught brands to ensure we have canned tuna for decades to come.
Lemon Juice – Fresh is always best. To get the most juice from your fruit, give it a firm roll on the countertop for 10-15 seconds before cutting it open.
Liquid Smoke – This natural byproduct of burning wood gives foods lots of smoky flavor without the fire. Use a steady hand when measuring, as this is some seriously potent stuff.
Hot Sauce – Tabasco or Crystal are the most traditional options, but feel free to swap in your favorite vinegar-based sauce.
Paprika – If you can't get your hands on liquid smoke, opt for smoked paprika to get a similar savory effect. Otherwise, sweet paprika is the way to go.
Garlic Powder – All the allium flavor without the sticky fingers!
Kosher Salt & Black Pepper – Don't forget your seasoning. Freshly cracked black pepper is more pungent and has better texture than the pre-ground kind.
Fresh Parsley – Either flat-leaf or curly varieties will work here.
Fresh Chives – Feel free to swap in thinly sliced scallions or minced shallots.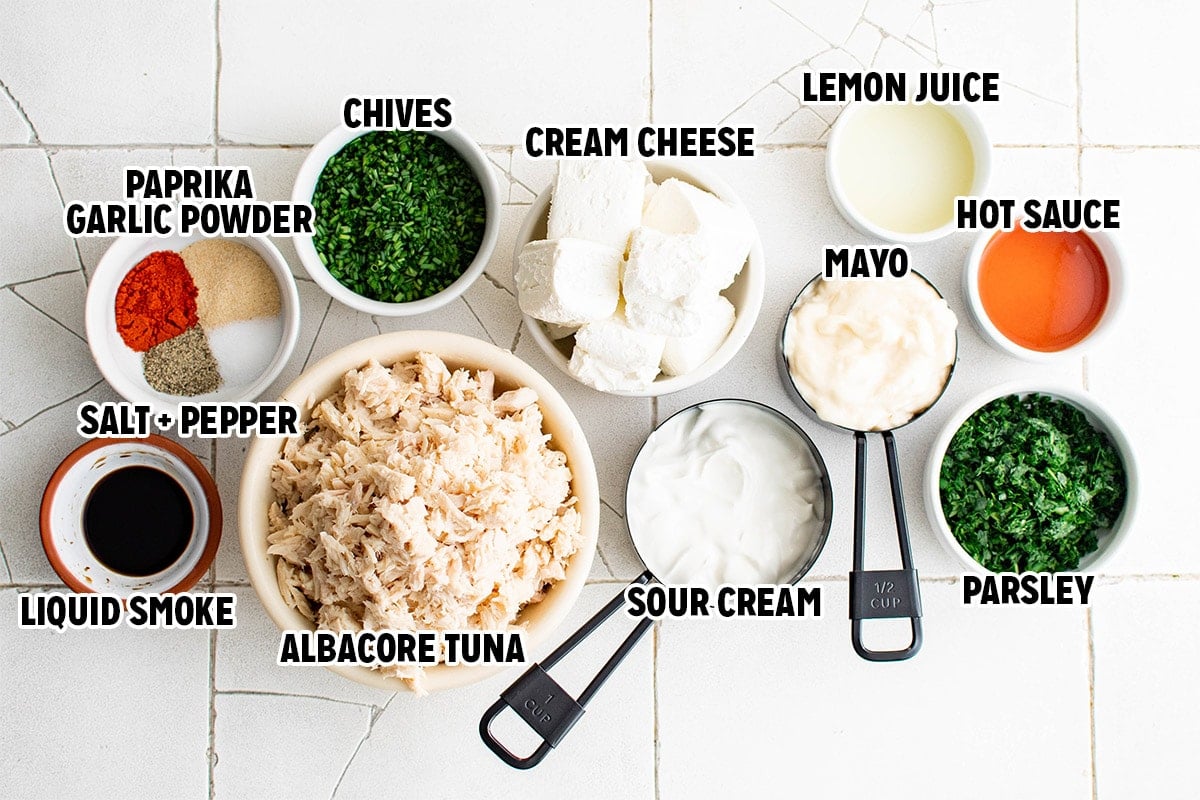 How To Make Smoked Tuna Dip
Be sure to check the recipe card below for full ingredients & instructions.
My easy smoked tuna dip recipe comes together in mere minutes. Here's how it's done:
Beat Cream Cheese & Dairy. In a large bowl, whisk or beat the cream cheese, mayo, and sour cream until creamy and uniform.
Add Flavor. Stir in flaked tuna and the remaining ingredients.
Chill. Cover and chill in the refrigerator for at least 30 minutes.
Garnish & Enjoy. Garnish with a sprinkle of paprika and minced fresh herbs. Serve with your favorite crackers or crostini.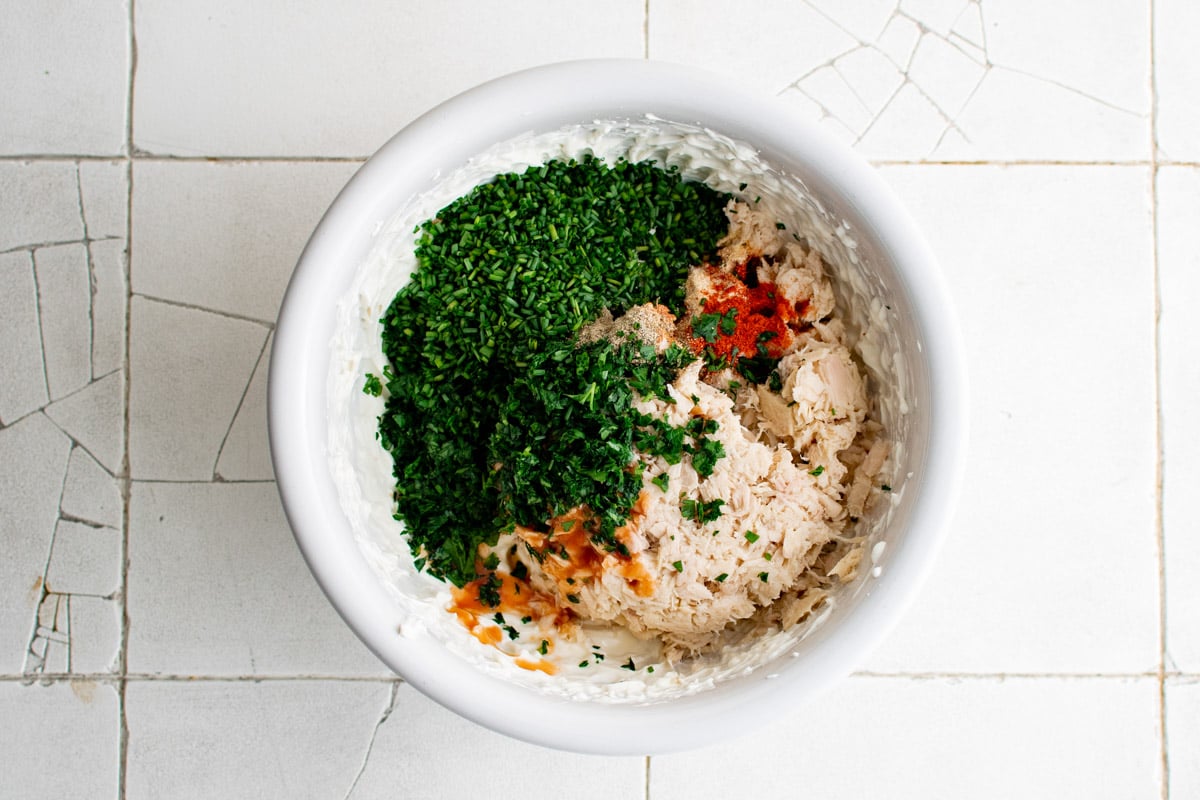 FAQs
How long does smoked tuna dip last?
In our house, not long! All jokes aside, though, this homemade smoked fish dip should last about 5 days if kept in an airtight container in the fridge.
Is smoked tuna dip cooked or raw?
This smoked tuna dip recipe uses canned, cooked tuna and liquid smoke to achieve the smoky flavor I crave.
What can I use instead of liquid smoke?
If you are unable to find liquid smoke or don't have any on hand, consider using smoked paprika. You can also use a smoky hot sauce, or add some chipotle powder to achieve a similar effect.
How To Serve
Once I make a batch of this creamy, homemade smoked tuna dip, it takes all of my willpower not to eat it straight from the bowl with a spoon! If you plan on serving it at a party like a normal person, try offering it:
With crackers or crostini. The crunch of carbs against the creamy, protein-packed dip is a lovely combination indeed.
As tea sandwiches. Spread some dip on soft white bread, add a piece of crunchy leaf lettuce, trim off the crusts and cut into triangles for a savory tea time treat.
As maki. Pair this smoky fish dip with sushi rice and dried sheets of nori (seaweed) for a simple, easy sushi night at home. Feel free to add pickled daikon or julienned carrots or cucumbers for a bit of crunch!
With beer. I don't know what it is, but this salty, smoky, creamy dip tastes especially good when served with a cool, crisp lager.
Variations
My Gulf Shores-inspired smoked tuna dip is pretty awesome, but there's always room for a little improvisation. Here are a few variations I can endorse:
Different Fish. Smoked trout dip, smoked salmon dip, smoked mackerel dip… the options are only as limited as your selection of tinned (or even fresh) fish.
Dairy-Free. Use plant-based cream cheese, mayo, and sour cream to please your lactose intolerant friends.
Fresh Fish. I typically reach for canned fish because it's cheap and readily available, but there's no law preventing you from using fresh fish instead! Cook it with some simple seasonings (e.g. salt & pepper) on the grill, in a pan, or in the oven. Let it cool, then flake with a fork and proceed with the recipe!
Different Herbs & Spices. Fish of all kinds pair beautifully with either tarragon or dill, so feel free to switch things up as needed. Cajun seasoning and Old Bay are both great options, too!
Storage
Once mixed, smoked tuna dip will keep for about 5 days in the fridge or about 3 months in the freezer.
Expert Tips
Make sure to keep your smoked fish dip in an airtight container; fish, alliums, and liquid smoke are all permeable flavors that can accidentally add a strange, savory flavor to butter, yogurt, or other items in your fridge.
Blend the dairy separately with a whisk or hand beater, then fold in the flaked tuna so you keep a little texture.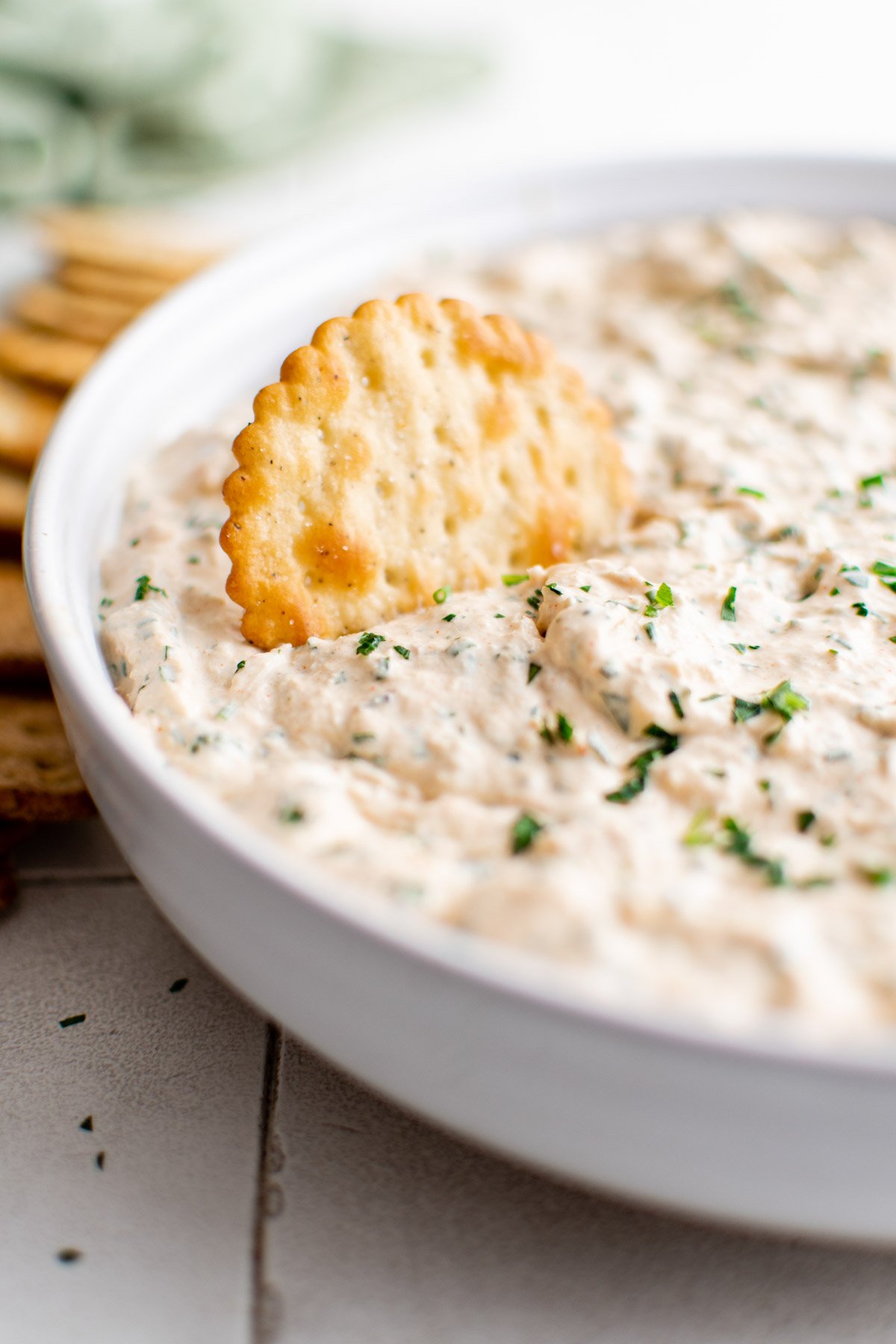 More Creamy Dips
If you've made this recipe, please come back and leave us a star rating or a comment below.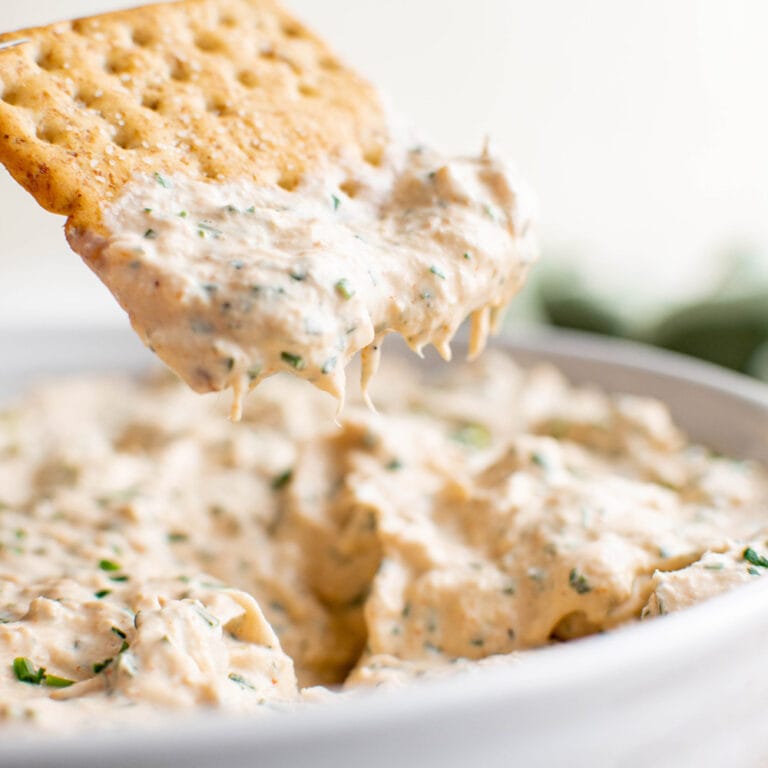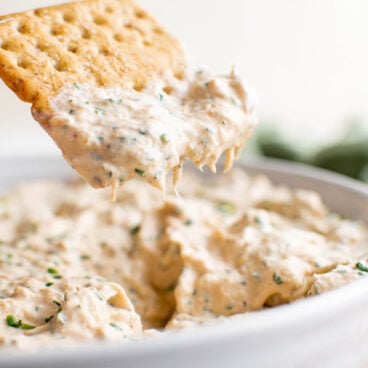 Smoked Tuna Dip
Smoked Tuna Dip is creamy, delicious and perfect for serving with crackers or crostini. It's an easy appetizer that's ready in 10 minutes!
Ingredients
8

ounces

cream cheese

softened to room temperature

½

cup

mayonnaise

½

cup

sour cream

16

ounces

canned albacore tuna

drained well and flaked (or fresh)

2

teaspoons

fresh lemon juice

1

teaspoon

liquid smoke

2

teaspoons

hot sauce

1

teaspoon

paprika

1

teaspoon

garlic powder

½

teaspoon

kosher salt

½

teaspoon

black pepper

¼

cup

fresh parsley

chopped, plus more for garnish

¼

cup

fresh chives

chopped, plus more for garnish
Instructions
In a large bowl, whisk together (or use an electric hand mixer) cream cheese, mayo and sour cream.

Stir in flaked tuna and remaining ingredients.

Cover and chill in the refrigerator for at least 30 minutes.

Garnish with a sprinkle of paprika, and minced chives or parsley. Serve with your favorite crackers or crostini.
Nutrition
Calories:
398
kcal
Carbohydrates:
4
g
Protein:
21
g
Fat:
33
g
Saturated Fat:
12
g
Polyunsaturated Fat:
10
g
Monounsaturated Fat:
8
g
Trans Fat:
0.03
g
Cholesterol:
89
mg
Sodium:
761
mg
Potassium:
289
mg
Fiber:
0.2
g
Sugar:
2
g
Vitamin A:
966
IU
Vitamin C:
7
mg
Calcium:
75
mg
Iron:
1
mg