Marinated Mozzarella Balls
Creamy, fresh cheese, and an herb and garlic-studded olive oil combine forces in this simple recipe for Marinated Mozzarella Balls.
Made with just 8 ingredients, 5 minutes of active prep time, and ZERO cooking, this crowd-pleasing appetizer is a summertime favorite that I make all year round. Marinated Mozzarella Balls can be served on their own, as part of an epic Cheese Board or as a delicious topping for crostini.
Table of Contents
Why We Love This Recipe
When that summer heat fatigue sets in, I try to turn to either my grill or opt for low-lift, zero-cook recipes. This gorgeously fresh marinated mozzarella balls recipe is always at the top of my list.
Bursting with bright Italian flavors that are well suited to pairing with juicy summer produce, these mozzarella cheese balls are the perfect addition to nearly any meal. In addition to being addictively delicious, this recipe is:
Made With Only 8 Ingredients. EVOO, fresh herbs, a few spice aisle staples, and fresh mozzarella are all you need.
Quick & Easy. It takes just 5 minutes of active time to get these tasty balls of deliciousness in their marinade.
Wholesome & Delicious. Protein-, probiotic-, and calcium-packed fresh mozzarella isn't just tasty, it's also lower in sodium and calories than many other types of cheese. Add some heart-healthy olive oil and immunity-boosting garlic & herbs to the mix and you have yourself a nutritious, delectable snack.
Ingredients For Marinated Mozzarella Balls
As promised, you don't need much to make these flavorful mozzarella balls in olive oil. Here's your shopping list:
Extra Virgin Olive Oil – Look for cold-pressed olive oil for the best flavor.
Garlic – Fresh is best, but if you're in a pinch, you can swap in about ½ teaspoon of garlic powder.
Fresh Basil – Stack the leaves in a tidy pile, roll into a cigar shape, and cut chiffonade-style for the fastest, prettiest way to process fresh basil.
Fresh Parsley – Flat-leaf or curly will both work here. You can also swap in 1 teaspoon of dried parsley if needed.
Fresh Oregano – Dried oregano is *much* more potent than fresh. If you need to make the swap, be sure to use just ¾ teaspoon of dried.
Crushed Red Pepper Flakes – Feel free to add more or less depending on your heat preference.
Kosher Salt – If you opt to use a different type of salt, please refer to this conversion chart for easy measuring.
Bocconcini – Feel free to use slightly smaller Ciligine or fresh mozzarella pearls.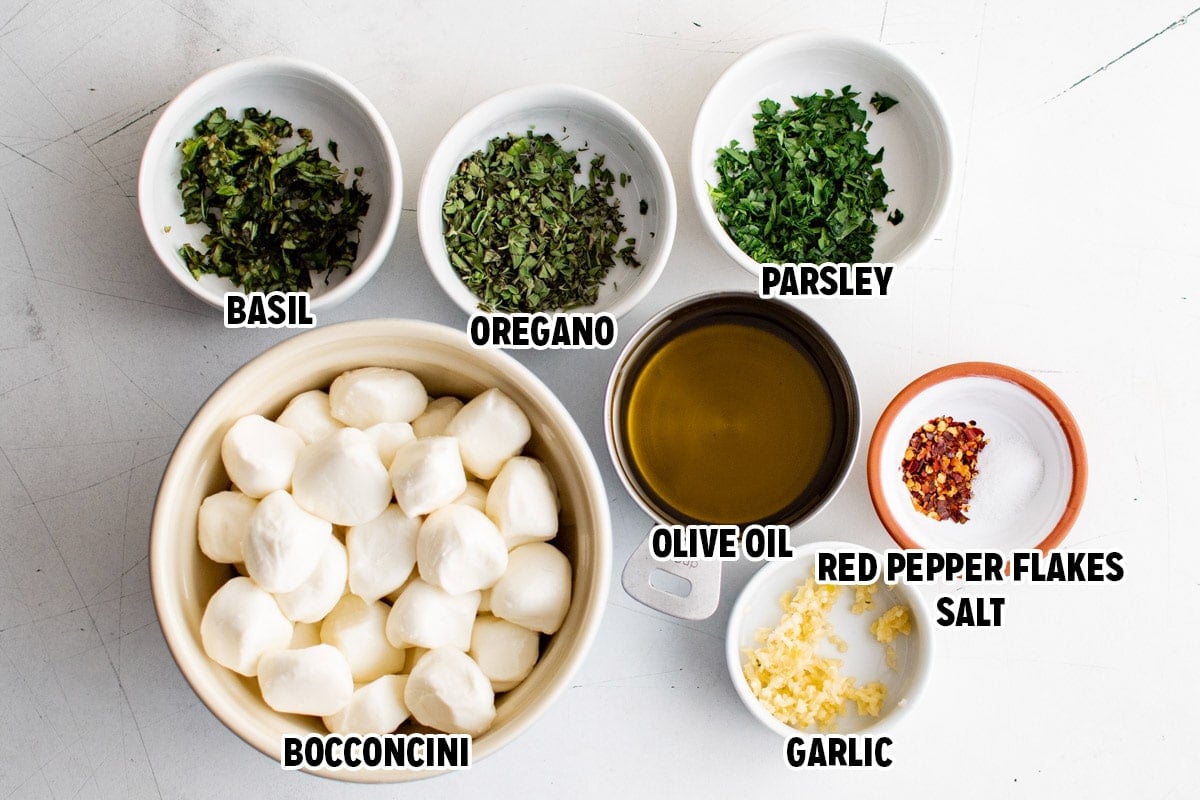 How To Marinate Mozzarella
Be sure to check the recipe card below for full ingredients & instructions.
This simple recipe for mozzarella balls couldn't be easier! Here's how it's done:
Make Marinade. In a medium jar, combine olive oil, herbs, spices, & salt.
Marinate. Add the mozzarella balls and gently stir to coat. Seal and refrigerate for at least 30 minutes – 1 hour.
FAQs
Should I serve these warm or cold?
I'm calling Goldilocks on this one. You don't want them warm or they'll melt together, but they also shouldn't be too cold or they'll taste bland. Shoot for room temperature, around 70F.
What should I do if my marinade solidified in the fridge?
Not to worry! Most oils will solidify when exposed to cold temps. Just let the container sit at room temperature until the oil melts, give it a quick, gentle shake to redistribute the flavored goodness, then dig in.
How To Serve
Once you've marinated your bocconcini for 30-60 minutes, you're welcome to dive right in. Feel free to serve them:
In a bowl, with toothpicks. Simple and delicious.
Kebab-style with cherry tomatoes & basil leaves. Threading them onto skewers with cherry tomatoes and fresh basil leaves makes for a beautiful presentation.
On crostini. Make some crunchy toasts to serve with your marinated mozzarella; the textural contrast is a winner.
In salads. They're great as an addition to Caprese salad in place of plain mozzarella, as an addition to simple green salads, or tossed in pasta salads.
On pizzas, sandwiches, or flatbreads. Who doesn't need more cheese in their life?
Variations
As far as I'm concerned these mozzarella balls are marinated to perfection, but there's always room for customization. Here are a few variations you might like to try:
More/Different Herbs & Spices. Try adding thyme, lemon zest, herbes de provence, or dill.
Fried. Drain the marinated mozzarella, pat it dry, then do a standard breading (seasoned flour, egg, panko) and fry until golden and crispy.
Drizzle with balsamic vinegar. Add a mouth-puckering punch of zesty acidity.
Slices or Cubes. Can't find baby bocconcini or ciligine? Opt for a larger round or log of fresh mozzarella and cut it into smaller pieces.
Storage
Marinated mozzarella can be stored for up to 5 days in an airtight container in the fridge. I suggest eating them within about 5 days, or they'll start to clump together into a large mass.
Expert Tips
Use the marinade oil for making salad dressing, bread dip, or as a meat marinade (when combined with an acid).
Marinate for a minimum of 30 minutes to let all the flavors seep in.
Serve at room temperature for optimum flavor.
More Cheesy Appetizers
If you've made this recipe, please come back and leave us a star rating or a comment below.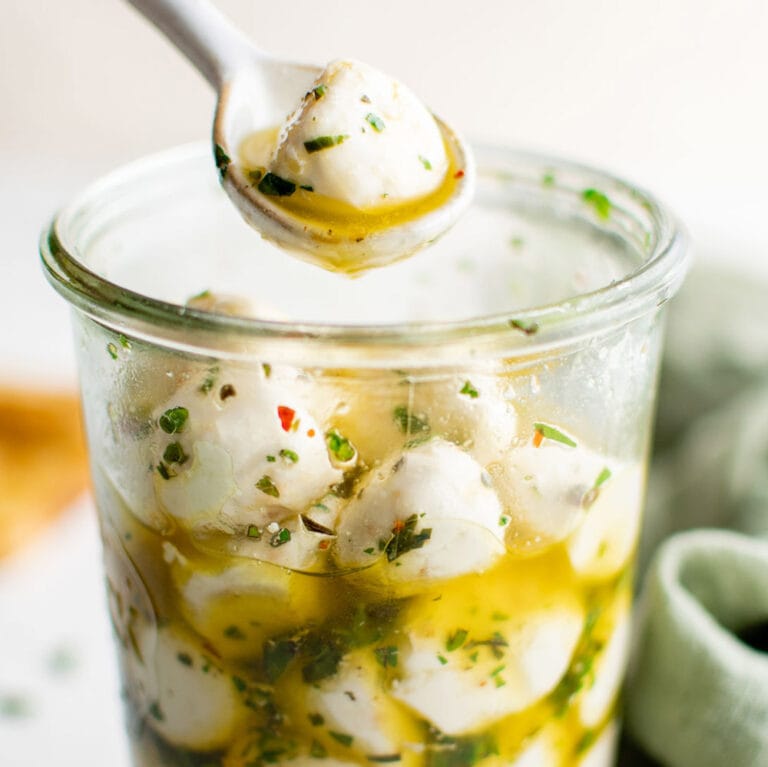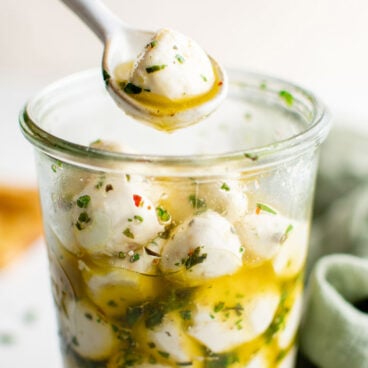 Marinated Mozzarella Balls
Creamy, fresh cheese, and an herb and garlic-studded olive oil combine forces in this simple recipe for Marinated Mozzarella Balls.
Total Time
1

hour
5

minutes
Ingredients
¾

cup

extra virgin olive oil

2

garlic cloves

1

tablespoon

fresh basil

chopped

1

tablespoon

parsley

chopped

1

tablespoon

fresh oregano leaves

chopped

½

teaspoon

crushed red pepper flakes

¼

teaspoon

kosher salt

14-16

ounces

bocconcini, drained

(I used 2 8-ounce packages)
Instructions
In a medium jar, combine olive oil, garlic, basil, parsley, oregano, red pepper flakes and salt.

Add the mozzarella balls and gently stir to coat. Seal and refrigerate for at least 30 minutes-1 hour to allow flavors to blend and infuse. Serve with crusty bread, crostini or toasted pita bread.
Notes
Can be stored up to 5 days in an airtight container.
Nutrition
Calories:
409
kcal
Carbohydrates:
1
g
Protein:
12
g
Fat:
41
g
Saturated Fat:
8
g
Polyunsaturated Fat:
3
g
Monounsaturated Fat:
20
g
Cholesterol:
24
mg
Sodium:
148
mg
Potassium:
23
mg
Fiber:
0.5
g
Sugar:
0.1
g
Vitamin A:
137
IU
Vitamin C:
1
mg
Calcium:
254
mg
Iron:
1
mg